Reversing Winter Bloat and Blues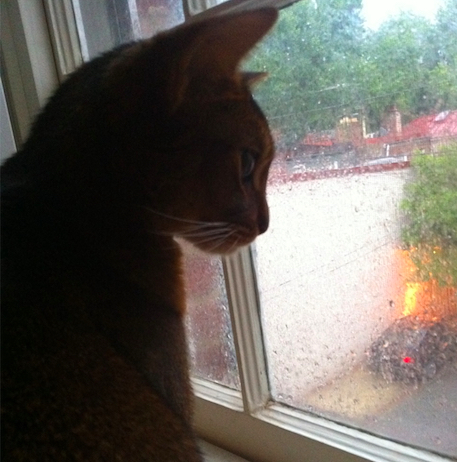 Are you experiencing the winter blues? Bloat? More cravings than usual? It seems these occurances are running rampant right now. January and February are tough months for many people nation-wide.
The most probable causes are in your control and involve decreases in both sunlight and physical activity. Together, they can contribute to the blues and enough of a calorie imbalance to cause weight gain. Here's how.
Sunlight. Some people are particularly susceptible to light deprivation, caused by the decrease in daylight hours during the winter. This affects the neurochemical serotonin, responsible for your mood and appetite, prompting increased food cravings and weight gain.
Physical Activity. When it's cold outside, we're less physically active and cut back on subtle calorie-burning activities such as short walks and light outdoor chores. These caloric expenditures may only add up to about 100 calories per day, but this translates into a 3-4 pound weight gain (or more) during the winter months.
What to do to both improve your mood and curb your cravings?
Increase exposure to sunlight. Bundle up and go outside to reverse the symptoms of light deprivation. You'll feel refreshed and less bored, and your appetite may be more controllable. The amount of needed daylight varies for each individual. In general, the more the better. One hour daily in the morning, ideally at sunrise, is most helpful. If you're not an early bird, several hours on the weekends may help make up for a lack of sun during the week. Some people may benefit from getting daily "light therapy" which would be prescribed by your doctor. Some popular products are from "sunbox."
Up your activity level, even just a little. During just one exercise bout, your brain releases feel-good chemicals, called endorphins into your body. These chemicals reduce pain, increase feelings of well-being and elevate your mood. If you're regularly active, these benefits multiply. A brisk 30-minute walk just three times a week relieves major depression just as effectively as an antidepressant in most adults, according to a study published in the Archives of Internal Medicine. Wear a pedometer to keep track of your activity level and to motivate you to get more.
Increase your intake of a colorful array of fruits and vegetables. These low-cal but filling carbohydrates increase serotonin production, helping to regulate mood and appetite. They also help you feel more satisfied for fewer calories, and research shows adding them to a meal could save at least 100 calories (translating to 4 – 5 pounds during the colder months)…some tips:
To lower the calories and increase the portion size of a favorite recipe, pump up the volume by adding vegetables as often as you can. This way, you can eat your usual portion for fewer calories.
Choose fresh fruits over dried fruits or juices. For 100 calories, you could eat 1/4 cup of raisins or two cups of grapes. (You're more likely to fill up on the grapes.)
Start lunch or dinner with a hearty, satisfying, and yummy bowl of soup or a large, colorful salad with a delicious vinaigrette.
Turn main courses into soups or salads by adding broth or vegetables.