Residents frustrated by parking tickets, project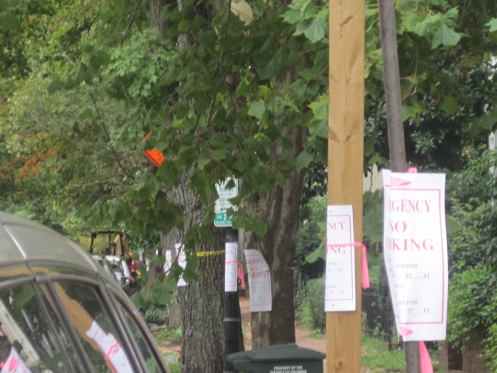 Georgetown residents are up in arms over a street repaving project that has eliminated hundreds of parking spaces, hit residents with thousands of dollars in what they say are illegitimate parking fines, and turned the neighborhood into an obstacle course with unused machinery scattered like junked cars, causing safety concerns.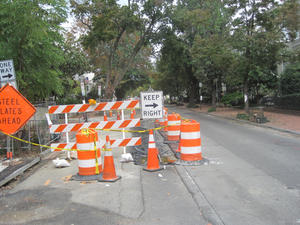 "This is truly so frustrating and disorganized," said Elizabeth Miller of 33rd Street. Her block has been blanketed with no parking signs, preventing residents from parking even when no construction is occurring. Other times, she said, "no parking" signs have been posted early in the morning near residents' cars that were parked legally the night before. Ticket writers are not far behind.
The long-planned project to replace trolley tracks and other infrastructure on cobblestone blocks of O & P Streets between Wisconsin Ave. and 37th St. is expected to continue through next summer.
"My husband parked at night in a legitimate parking space. The next morning he got to the car at 8:30 and had a ticket. They put the signs up at 7:00," Miller said. "It's completely outrageous. There is no communication with the residents."
"I parked in a spot on 33rd Street over the weekend where there were no signs. I return to get my car Monday morning to find a sign effective that morning and a ticket on my car," wrote resident Angie Bradshaw.
"The attitude seems to be, let's just slap up no parking notices where we can, whether we're going to be working there or not," said Martin Evans, a Georgetown University economics professor who has lived on P Street for 16 years. "They started by confining their activity to a few places, but now it has spread out of control."
In addition to the street repaving project, Washington Gas has started major repairs in the area involving trench-digging and line work. "One neighbor said she hasn't slept in two weeks" due to the sound of cars running xylophone-like over metal planks covering the trenches, Miller said.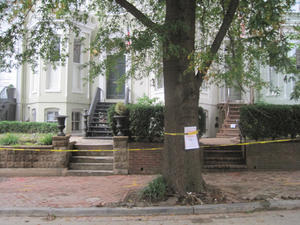 Residents say no alternatives for parking have been offered, despite a project that involved over 10 years of planning. Temporary resident-only parking zones promised by authorities have not materialized, so the remainder of available parking spaces are shared by cars from the suburbs and elsewhere. "It's like residents are kind of a nuisance and let's just ignore them as much as possible," said Evans of the project management's approach.
"Heavy construction equipment is parked all over the place for weeks," Evans continued. "There is no attempt to contain the impact, to minimize the machinery that is around. It's symptomatic of the whole way the project is being run."
Councilmember Jack Evans said he understands the concerns. "I'm well aware of it and have contacted [the agency directors]," he said. "If anybody feels that they have been unfairly ticketed they should contact my office. Residents need to let us know." Evans' office is reachable at (202) 724-8058.
"In Georgetown there's a lack of parking spaces in the best of times," he added. "There has never been an alternative. These construction projects are enormous, greatly needed and very inconvenient."
Miller suggested a daily email or Tweet to residents alerting them to parking restrictions for the day. "In an age of listserv and Twitter," she said, "this is not rocket science."
"There seems no reason why there isn't a daily update listing the day's work area and a preview of the following day including specific blocks and recommended alternative parking," added Bradshaw.
"I'm sick and tired of picking up asphalt from my floor," wrote Miller in an email to authorities. "AHHHH. Please try to help us."