Residents Demonstrate Against 5333 Connecticut Avenue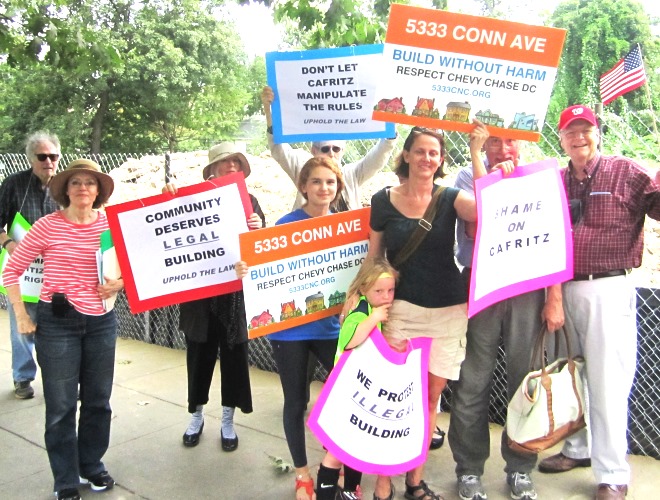 Chevy Chase residents opposed to the apartment building planned by Calvin and Jane Cafritz for 5333 Connecticut Avenue, NW, took their campaign to a new level on Saturday, staging a noisy, midday demonstration against the project. More than 50 demonstrators, from toddlers to seniors, filled the sidewalk on Connecticut Avenue from Military Road to Kanawha Street. Their signs and chants were largely directed at the Cafritzes, including Shame on Cafrtiz, Don't Let Cafritz Manipulate the Rules and Build Without Harm, Respect Chevy Chase.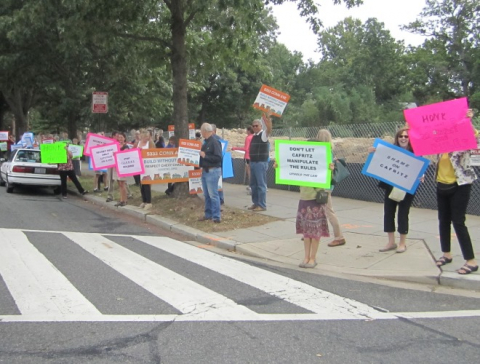 The demonstration reflected community reaction to a switch from opposition to support for the project by a 4-2-1 vote by Advisory Neighhborhood Commission 3/4G and the start of construction on the site, including a new chain-link fence around the property and tree-removal and land-clearing. The protest also reflected the community's frustration at decisions by the District's Department of Consumer and Regulatory Affairs and others to grant permits to the project. The protestors and the 5333 Coalition contend that the "project violates federal height, and city zoning and construction law." The Coalition's appeal of these city approvals will be heard by the Board of Zoning Adjustment on Tuesday, September 24.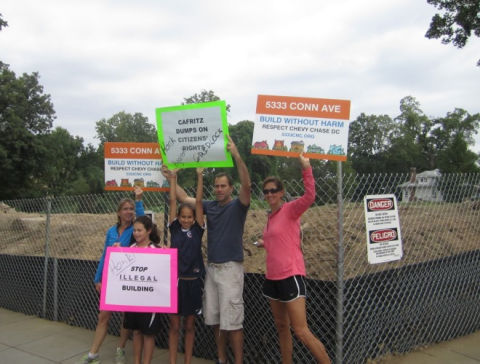 The Cafritzes contend, supported by the District, that the building as designed meets all zoning and other regulatory requirements and is a "matter of right" project.
The members of the Coalition have solicited support from members of the City Council. At the request of the Coalition, Councilmember Mary Cheh from Ward 3 arranged for them to meet with Chairman Phil Mendelson and At-large Councilmember David Grosso, leading to a letter to the BZA urging that the appeal "neither be delayed or unnecessarily shortened."
Councilmember Cheh had previously arranged for the Cafritzes, along with District officials and the Cafritz lawyer and architect, to answer questions at a standing-room-only community meeting. However, she declined to join the letter to the BZA.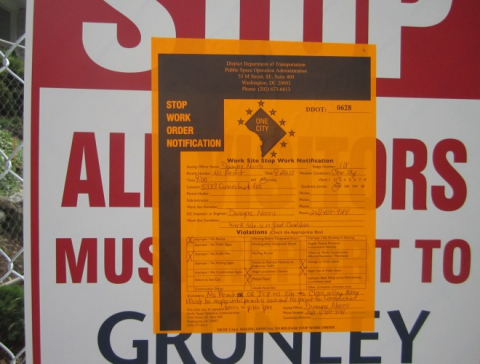 The day before the rally, the Coalition filed a second appeal against the project, this one with the District's Office of Administrative Hearings. The Coalition is asking that work be suspended because, according its press release, "the Cafritzes reneged on assurances they would preserve many mature trees on and around the site to screen the proposed structure from the surrounding neighborhood …" In addition the District Department of Transportation issued a stop work order at 9 pm on Friday because of the absence of proper permits to close the alley and for the fence.