Repaving paradise: a Georgetown alley gets facelift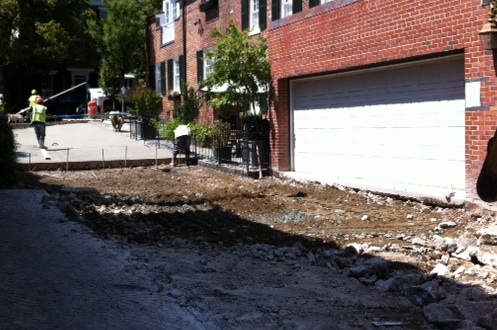 Backhoes, drilling rigs and other heavy equipment barreled into the alley surrounded by 33rd, 34th, N and O Streets Monday for a complete surface replacement.
It's an alley regularly trafficked by Secret Service vehicles ferrying Sen. John Kerry (D-Mass.) and others. Former Secretary of State Madeleine Albright's house overlooks the Western entrance.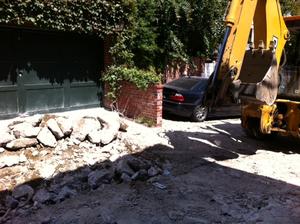 "Your alley is going to be completely resurfaced," ANC Commissioner Jeff Jones warned constituents in an email. "The funds were already allocated for a city-wide alleyway repair and/or replacement, and no additional funds are being allocated to complete this project. It was determined this alley was in sufficient need of complete replacement, since it was failing and further patching would not be sufficient."
The alley had some divots. But it was pretty. Can new pavement replace the charm?
"You will be impacted by noise, possibly some dust, limited or no access to the alley or your private parking spot, and trash/recycling collection will need to move to front of your property," Jones wrote, asking neighbors to circulate the update. "The good news is once this is complete, you should have a nice new alley."
By nightfall, some cars parked along the alley were stuck, and dusty.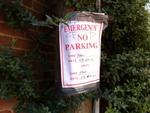 Work crews apologized because parked cars on private spaces off the alley and in garages would not be able to move for 72 hours after the cement and dust storm. But weather permitting, the entire alley could be finished by the end of the week -- ahead of the posted schedule -- they said.
ANC Commissioner Jeff Jones advised residents to contact 311 if trash was not being picked up on streets while the alley repair is underway. Commissioner Jones is reachable via http://anc2e.com/.