Rehoboth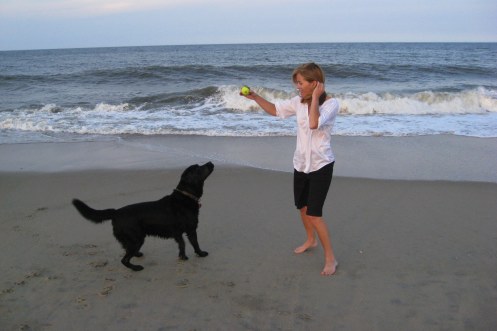 Crossing over the Bay Bridge on the first official weekend of summer, I feel a sense of freedom and a slight fear of change. I open the windows to smell and feel the air, hot but full of movement.
"Look at the boats, girls," I say to my daughters, Peyton and Katherine, sitting in the back seat. Angus rides shotgun with his head out the window, his gums and ears flapping in the wind.
We're on our way to my parents' house in
Image
Rehoboth Beach, DE, a place I've been going my entire life. From our house in DC, I follow New York Avenue to Route 50 to Route 404 to Route 16 to Route 1. Coming into Rehoboth, Route 1 used to be a rural byway, flanked by farms and fields of corn. Now there's as much weekday traffic on this road as there is on New York Avenue on a Friday afternoon. Outlets, Outback Steak, Applebee's and countless cardboard-looking condos have sprouted up in place of crops. Sometimes I worry Sussex County literally will sink from all the over-development.
Still, there are glimpses of what was, is, and, hopefully, will always be. I find myself singing "the corn is as high as an elephant's eye," from "Oklahoma," as we pass fields on Route 16. "Can you believe it, girls," I say. "The corn is only up to our knees right now. But by the end of summer…"
"We know, we know, Mommy. The corn will be as high as an elephant's eye," Peyton says. I glance in the rearview mirror and catch her rolling her eyes.
"Mommy, could you put on Hannah Montana?" Katherine asks.
How did this happen? How did we go from listening to Raffi and Barney to High School Musical, Hannah Montana, and 99.5 seemingly overnight? I sense the passing of time with each drive to the beach, measuring the height of corn stalks as we roll past or seeing how the Queen Anne's lace or cosmos sway and droop over the road's shoulder
"Uh, I think we left that CD at home," I fib. "How about Best of Broadway?" I pop in the CD, pressing the button until it reaches track 12: "Day by Day" from "Godspell." The girls plead for "The Sun Will Come Out Tomorrow" from "Annie" or "Ease on Down the Road" from "The Wiz." After "Day by Day," I promise.
The house at the beach has undergone two additions since it was built in the 1920s. But the flavor remains the same: creaky wooden floorboards, crunching metal door knobs, a wrap-around porch with sagging wicker sofas and faded cushions. Mismatched china fills the glass cabinets in the kitchen, along with mismatched and bent utensils in the drawers. Nothing reminds me more of summer than hearing the clinking of silverware as it hits the glass table on the porch.
Only recently have I come to appreciate the crusty qualities of the beach house. I used to try to get my mother to glam it up a bit, encouraging her to replace some of the china or freshen up the living room with a new sea grass rug. Now I almost savor the lack of change, probably because I see so many old cottages being torn down to make room for Nantucket-style McMansions with snap-in mullions.
But it's precisely this new development that makes the older, more threadbare places stand out. There are new bike rental shops touting shiny beach cruisers with fat tires. But I prefer "Bob's Bikes" with its faded yellow and white striped awning and the two older gentlemen shuffling along in shorts and white socks who haven't changed, but for slight slumps, since I was a child. Then there's the brown shingled Lingo's Market, with zinnias stuffed into sawed off milk cartons and blueberry pies in the window, just blocks away from a concrete convenience store.
Rehoboth has a mix--of architecture and people—that doesn't exist in some of the swankier watering holes like the Hamptons, Martha's Vineyard or Nantucket. The crowds in Rehoboth are, ah-hem, slightly more bulging and tattooed. Sure, some look as if they've just stepped out of the pages of J. Crew. But others look like they just stepped out of Hooter's or off their Harleys. An elderly couple in Bermuda shorts holds hands, shuffling along the boardwalk. Beside them stride two buff men in Spandex shorts, also holding hands.
Like the mismatched china in our cupboards, I've come to appreciate the mix of people and architecture.
That's what makes a place real--as real as the slapping of screen doors, the traffic on Route 1, or the sound of waves pounding at night.