Recapturing Camelot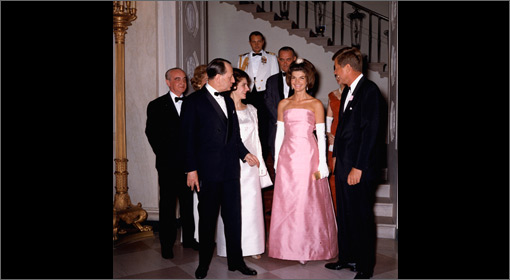 This past week, I did something touristy in Washington, DC. No family member was visiting; no out-of-town friend was staying over. I met up with a girlfriend, and we went to the Newseum to see the JFK exhibit. We had connected a couple of years ago over our joint fascination over the Kennedys, and thought it would be fun to compare our reactions to the exhibit (she is American, I am not; she was alive when JFK was shot, I was not).
We started with the "Creating Camelot" part of the exhibit, an amazing array of photos of John and Jacqueline Kennedy, and their children. Jacque Lowe, the photographer, was as their personal photographer able to be a part oft heir life and depict some very candid moments. Many of the photographs I had seen in books before, but a few I had not, including an amazing one of Jackie in which she reminded me of a young Sophia Loren (sultry and sexy, which is not really how I think of Jackie). These images made me miss 'Camelot' – I know it wasn't real, I know everything wasn't as beautiful, perfect, or idyllic as the images make it seem; yet the exhibit made me nostalgic for what appears to be a quieter, more elegant time (a time in which ladies wore long gloves … how I wish that trend would come back!).
From there, we went to the 6th floor, to the part of the exhibit entitled "Three Shots were Fired." My feeling of nostalgia turned into true sadness, and goosebumps. I have read countless books on the Kennedys, on various family members, on the events of that fateful day. I realized however I had never actually heard the news excerpts. It was chilling to hear CBS anchor Walter Cronkite's voice announcing that the president was dead. Seeing the TV moments made it very clear why the entire nation was fixated to their TV screens for the four days following this event.
We ended on the 5th level, to watch "A Thousand Days," a 16-minute Newseum-produced film on the JFK White House and Presidency. That movie captured what I think of whenever I think of JFK as a president: youth, modernism, international affairs, beauty, and the true American Dream.
So as not to end on a sad, nostalgic note, we ended our tour with a glass of wine at The Source, and couldn't help but talk politics … from the presidency to the DC mayoral race. A DC afternoon, through and through.