Rasika Comes to West End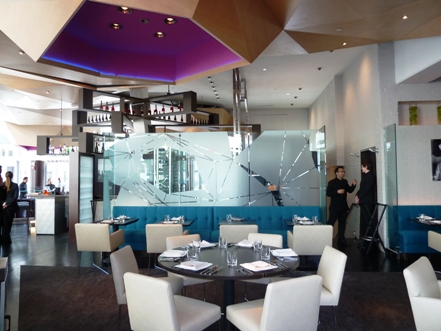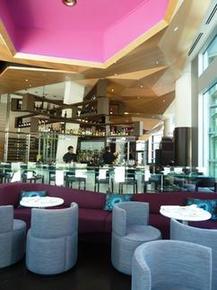 If you love Indian food, you already know the award-winning modern Indian restaurant in Penn Quarter. Now it's here. On the street level of 22 West, the angular luxury condominium at the corner of New Hampshire and M Streets, Rasika West End beckons. Same superb quality in a sizzling, light-filled space.
A mix of cozy private rooms, including a chef's table for ten downstairs, sleek bar, exotic Indian art, and jewel-toned main dining room are the creation of restaurant designer, Ashok Bajaj. The natural anigre wood ceiling lined in bright purple foam (also a sound buffer) in the main dining room is a modern interpretation of a Banyan tree, India's national tree which plays an important roll in Indian culture as the resting place for the God Krishna.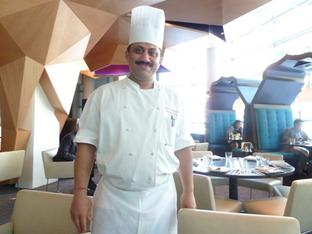 The glass wall that separates the main dining room from the bar continues the geometric theme with etched panels, mimicking the construction of the tree (and a nod to the design of 22 West).
More than half the menu is new, says group executive chef, Vikram Sunderam. "As the name Rasika means 'the flavors of India,' the selections come from all the regions of India."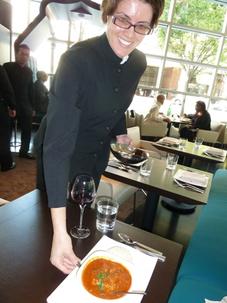 Whether prepared on the Tawa (griddle), Sigri (open barbeque), or Tandoori, each can be paired with a selection from the international wine list crafted by restaurant manager and sommelier, Alexander Carlin.
The Georgetown Dish was there for lunch. Jennifer Pokorski, our elegant server, recommended starting with Chhaya, a subtle tangy cocktail of rum, averna, tamarind, ginger and lime.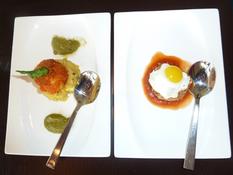 We wanted to try new new signature dishes so group general manager, Atul Narain suggested the Chicken Farcha (onion, curry leaf with tomato sauce topped with a quail's egg) and Dakshini Scallops (red chili, lentils, upma and coconut curry). Switching to wine, we picked a Minervois Syrah, the 2010 Chateau D'Agel, a robust pairing for the spicy lamb that came next.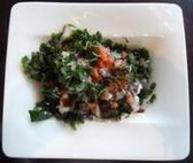 The Laal Maas was prepared with caramelized onions, red chili, garlic and black cardamom and served with fragrant Basmati rice. A favorite from Rasika in Penn Quarter, Palak Chaat, crispy baby spinach with yogurt, tamarind and dates accompanied the lamb and rice. Instead of the traditional naan we chose the Cauliflower Dill Paratha, a soft buttery bread perfect for dipping into the lamb's garlic sauce.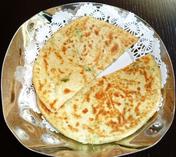 There was no room for dessert, but we had our eye on the Date and Truffle Pudding and Mango Panna Cotta for next time. Several of Jennifer's favorites are also on our must taste list: Asparagus Uttapam (rice and lentil pancakes with tomato chutney) and the Khatta Meetha Black Cod with fresh dill, honey, cheddar (yes, the cheese), star anise and tamarind.
We'll be back.
Rasika West End is located at 1177 22nd Street NW. Tel: 202.466.2500