Queens' hatmaker may lose shirt as Mall evicts merchants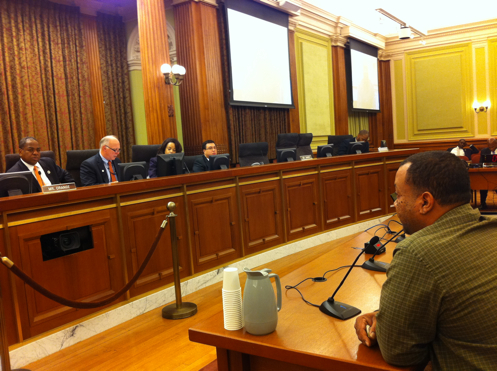 Anthony Gaskins, a Georgetown merchant, counts queens, princesses and First Ladies among his clients -- those seeking the artful hats and headwear he creates at The Hattery in The Shops at Georgetown Park. But Gaskins is about to lose his storefront and possibly his business if current landlords have their way. At a hearing today on small business chaired by Councilmember Vincent Orange, Gaskins fought back tears as he announced he had just signed up for food stamps and other public assistance as he tries to gather the resources to save his business. "I have a wife and two kids," Gaskins said, his eyes red. "The clerk said I should swallow my pride and take the food stamps. I've never done this. I can't believe it."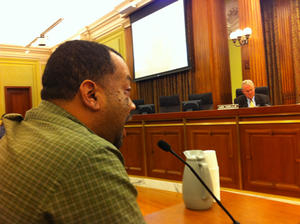 It's not that Gaskins hasn't paid rent. It's not a lack of customers. Gaskins' hat business is one of the most well-known in Georgetown and sought after by clients all over the world. But in the last weeks the new management of Georgetown Park mall, Vornado, told him he had 10 days to get out of the shop he has run days, nights and weekends for the last 12 years -- so the Mall can get ready for a renovation whose start date has yet to be announced.
Incredulous, Gaskins went to landlord-tenant court and got a 30-day reprieve. But having already purchased Halloween inventory, he is now stuck with an overload of merchandise not knowing where his shop will land -- or if it will land -- in time for the holiday. "First they told me I would be fine until after the New Year," Gaskins said. "So I have been buying inventory. I'm not in a position to borrow money right now." To make matters worse, Gaskins may not have a place to sell any of the merchandise he recently purchased, if Vornado succeeds in removing him from the Mall. Before arriving in Georgetown Park, Gaskins plied his craft at Mazza Gallerie for 13 years. Councilmembers expressed concern. "I'm not pleased with what I am hearing about Georgetown Park these days," said Orange, chairing the hearing for the Committee on Small and Local Business Development. "It's a big concern. We need to engage Councilmember Jack Evans [who represents Georgetown]."
Vornado Realty Trust controls over $20 billion in assets, including $12.7 billion in real estate including dozens of downtown Washington and Manhattan office buildings. To renovate the Mall, Vornado would likely have to go through a planning and approval process involving the ANC, Old Georgetown Board and other authorities that would take several months, at least, business leaders estimate.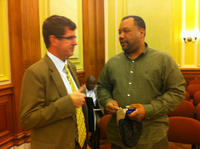 Ward 6 Councilmember Tommy Wells alluded to tax incentives used to lure big-box stores, hotels and other large businesses to the District while small businesses are taxed extra, as in the case of the D.C. Convention Center. "We need to show that we make the same commitment to existing businesses as we we do to new businesses," Wells said. As business leaders from other neighborhoods including Capitol Hill Association of Merchants and Professionals' (CHAMPS) Julia Robey Christian testified about anti-business regulations and D.C. government red tape that particularly hurt small businesses, Dupont Main Streets Executive Director Paul K. Williams spoke with Gaskins after the hearing about potential relocation to Dupont Circle. "We would love to help him," said Williams. "He has a unique business."