Queen Latifah Loves Italian in Georgetown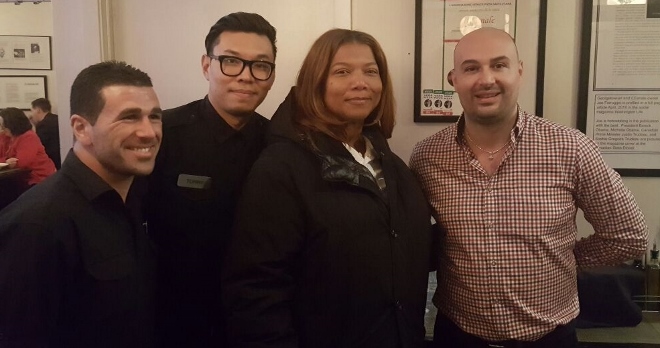 Food Quiz Challenge: Which knowledgeable cuisine critic did Queen Latifah use to find il Canale Saturday night?
The answer: YELP.
And: The Queen wasn't disappointed, either.
"Amazing!," the rapper, singer, actress, songwriter said after dining with a friend at the Georgetown restaurant.
She and Eboni Nichols selected brushetta with mozzarella, eggplant parmigiana and calamari fritt, and three pastas--spaghetti alle vonole, risotto with mushrooms and lobster ravioli.
Afterwards she happily agreed to smartphone pictures with staff as well as other dining admirers.
Picture with GM Matteo Russoniello (far right) and Bruno Conti (left) and Tommy Kanavivatchai.