'Queen of Basel' Interesting But Tries Too Hard
I was excited to see the world premiere of Queen of Basel at Studio Theatre. I have always been impressed with their choice of plays and am an unabashed admirer of their Artistic Director David Muse. This production while interesting left one wanting more depth.
That is not to say it has no redeeming value, rather the author is trying to say too much contained in an hour and twenty minutes without intermission. The play according to its author Hilary Bettis is an adaption of the Strindberg play Miss Julie. Bettis says she was asked to do this by Michael Hausmann who wanted a bi-lingual adaption for his theater in Miami. While she says she hated the play she agreed to do her version by "subverting Strindberg at every turn."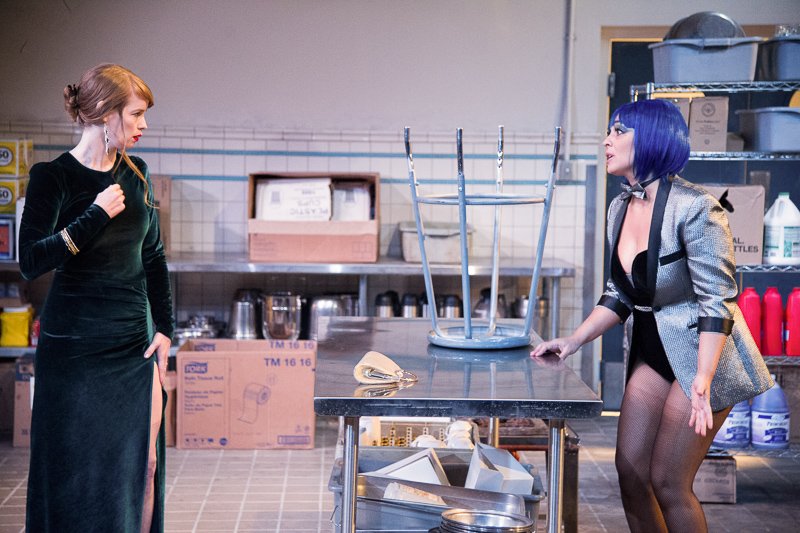 The entire play is set in a storeroom of a hotel owned by the father of the main character, Julie, (Christy Escobar) at a reception during Miami's Art Basel. Julie is introduced as a spoiled child who is a recovering alcoholic who accidentally collides with a waitress, Christine, a Venezuelan immigrant (Dalia Davi) and had drinks poured over her Oscar de la Renta gown and now is hiding out so the paparazzi and her father don't find her. The third character in the play is John, a Haitian/Cuban (Andy Lucien) Christine's boyfriend and an Uber driver.
The play focuses on the interplay between the three characters and explores their history and biases, and the world's biases and how they all relate to each other. The problem with the play is while it moves fast it covers much too much territory and none of it in depth. It seems Bettis thinks she needs to deal with every society ill one can think of in eighty minutes. There is sexism, misogyny, racial tensions, black and white relationships, the current issues in Venezuela, family dynamics, rich and poor, cultural differences and economic inequality among others too many to mention. One loses track of all she is trying to say.
I think the actors do the best they can with what Bettis has given them and at times they are compelling. Christy Escobar is clearly a good actress but at times seems to over-act but those are the scenes she has been given. Andy Lucien is great and totally believable showing a wide range of emotions which he handles well. Dalia Davi is good and represents the bi-lingual part of this production. She is clearly a talented actress.
Yet they all seem to be striving when moving from one issue to another and trying to give equal weight to all of them. At some point in the middle of the play you want them to just focus on something.
The set by Debra Booth is simple and works for the play. The costumes by Ivania Stack work as well. Director José Zayas seems to do the best he can with the words he is given and he clearly brings out the best in his actors.
*/
This play will be at the Studio Theatre until April 7th and it is an interesting eighty minutes of theater. You can enjoy and yet still leave wondering what the main point is.