Putting On the Glitz With CAG Oct. 26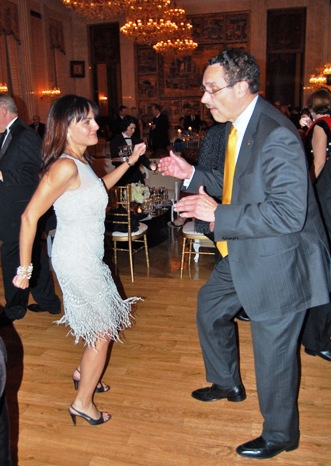 Join the Citizens Association of Georgetown (CAG) Friday evening, October 26, from 7:00 -11:00 pm for an evening of "Putting on the Glitz", at the Embassy of the Russian Federation. Russian Ambassador and Mrs. Sergey Kislyak open their doors once again to support CAG, as hosts of the annual Georgetown Gala, offering up an evening of Russian caviar and vodka, dining and dancing, and community celebration.
The evening's Honorary Chairs are Ambassador and Mrs. Sergey Kislyak, along with Senator and Mrs. Roy Blunt, Senator John Kerry and Teresa Heinz, Senator and Mrs. Joe Lieberman, the Honorable Selwa "Lucky" Roosevelt, Georgetown University President John J. DeGioia, Mark Ein, and Hugh Newell Jacobsen.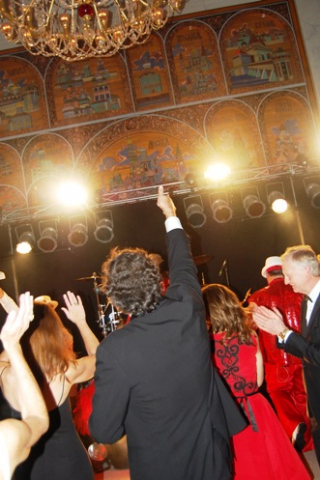 Gala co-chairs Nancy Taylor and Alan Bubes, Michele and Jack Evans, and Patrice and Herb Miller have planned a spectacular evening complete with gaming tables, live music by Big Ray and the Kool Kats, strolling entertainers and a live auction.
It began nine years ago when CAG board members Denise Cunningham and Barbara Downs conceived the idea for an event to celebrate the 135th anniversary of the Citizens Association of Georgetown -- one of the oldest civic associations in the country. Held at Evermay, the anniversary party was such a successful evening, CAG decided to make it an annual fundraising event. Enthusiastic CAG Board members and Executive Director Betsy Cooley drew in an active Gala committee and the event has grown from a cocktail party to a full-blown gala, complete with dinner, dancing and an auction. Several of the early Galas were hosted by the Belins at Evermay and others where hosted by John Dreyfuss at Halcyon House.
It's a lively evening, bringing the citizens, businesses, and community of Georgetown together, to give recognition to those in the community for their leadership and commitment to improving life in Georgetown. The purpose is to celebrate life in the historic Georgetown community and to raise money to fund preservation, safety, and other community programs in Georgetown. The 2012 Gala will honor Pamela and Richard Hinds, Georgetown residents known for their years of work on historic preservation and public safety in Georgetown
This year's gala on October 26, will be held for a third year in the marble, gilded grand ballroom of the Russian Embassy, lit with chandeliers laden with Bohemian crystal crafted in the former Czechoslovakia. This year's theme, "Putting on the Glitz", is a black tie affair, and will kick off with Russian Caviar and Russian Vodka, followed by cocktails, a dinner buffet and dancing.
A short but spectacular live auction will be a highlight of the evening conducted by popular Georgetowners – and spirited auctioneers – Joe and Pat Lonardo. Those looking for adventure and international travel might choose to bid on any one of the five live auction items, including a week- long stay in a seven bedroom 18th century home in Vence, France; or a week in a two bedroom apartment in the center of Florence; or -- closer to home -- a one week stay for two at the resort spa Rancho La Puerta in Mexico.
Gala tickets are $250 with a 20% discount for CAG members and funds raised through the evening's event will support the nonprofit Citizens Association of Georgetown.
For more information and/or to request an invitation, please call the CAG office: 202.337.7313.
About the Embassy of the Russian Federation:
The Embassy of the Russian Federation is located just North of Georgetown, situated on Mount Alto, the third highest land point in Washington. Well-known Soviet architect, Michael Poshkin – who also designed the State Kremlin Palace, designed the Embassy. Behind the façade and wrought iron gates, the grand rooms within feature magnificent oil paintings, tapestries, inlaid woodwork, intricate mosaics, and antique furnishings. Each room is decorated with symbols reflecting Russian history. Intricate and massive chandeliers can be seen throughout the second floor, each crafted with Bohemian crystal from the former Czechoslovakia.
The grand ballroom is decorated in Russian style, with art painted on the ceiling and panels at both ends of the room reflecting Russian history. One enamel panel depicts the founding of Russian territories through images of great cathedrals. The art at the other end of the ballroom illustrates countries once a part of Russia.