From the Publisher: Welcome, Out & About!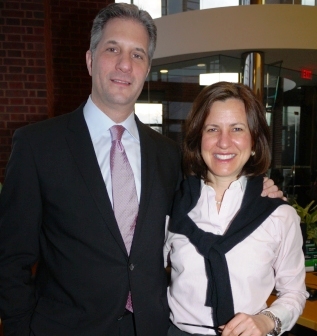 On behalf of Joe Giannino, the board of directors of the Georgetown Business Association, and our colleagues, we are delighted today to announce the launch of a new destination in Georgetown, the Georgetown Business Association's Out & About channel on The Georgetown Dish.
Featuring the most vibrant business community in the region, Out & About will offer news, features, special offers and information on Georgetown's unique business community. Out & About will spotlight Georgetown's unique blend of entrepreneurs, major national and international retailers, and the discerning clients that make our "village" one of the world's most intriguing destinations.
Out & About will also offer tips on local and national business issues from Georgetown's business leaders. Each day, business news, events, information and personalities will join The Georgetown Dish's breakfast-time newsfeed. Sign up HERE to receive your Dish o' the Day. And let us know what you think. The comment board is open to hear your views, suggestions and news about Georgetown's business scene. About the Georgetown Business Association:
The Georgetown Business Association (GBA) is a non-profit membership organization committed to maintaining and improving the climate for conducting business in Georgetown. Our goals include: (1) connecting Georgetown businesses with potential customers, other businesses and Georgetown/DC leadership through monthly networking events, GBA forum events, newsletters, and (2) advocating on behalf of Georgetown businesses and professionals on policy, regulation, public safety and other issues. Find out how to join the GBA to enhance your business and our vibrant business community here.
About The Georgetown Dish: The Georgetown Dish is a news and social media site spotlighting Washington's most influential neighborhood and local destination. Attracting almost a half million visitors in its first year, The Georgetown Dish provides sparkling coverage of local politics, the social scene, real estate and Georgetown's unique businesses and residents. Subscribe to our free Dish o' the Day newsletter here.
To coin a phrase from Humphrey Bogart, "Louie, I think this is the beginning of a beautiful friendship."