Protesters target Trader Joe's tomatoes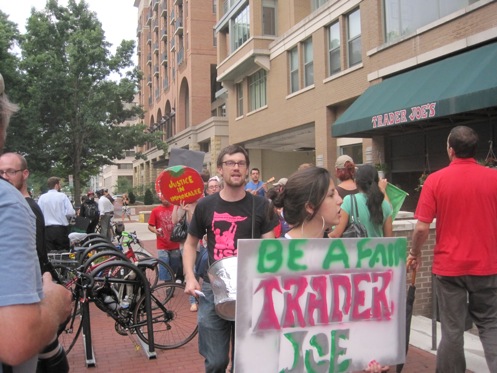 It's been called an aphrodisiac (the "love apple" in French) and an anti-oxidant cancer fighter. But now, the tomato is also causing protests across America, involving native Americans, accusations of slavery, and basic human rights.
Dozens of residents including a Glover Park contingent swarmed around Trader Joe's Wednesday to protest the treatment of workers in Florida who they say are victims of forced labor, sub-poverty wages and other abuses.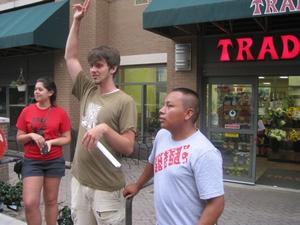 The Coalition of Immokalee Workers (CIW) says it has helped the Justice Department bust and prosecute modern-day slaveholders in Florida. The Coalition wants Trader Joe's to agree to adopt practices that enforce minimal labor standards for workers, who generally earn 50 cents for picking 32 pounds of tomatoes, the Coalition says.
Edward R. Murrow's, Harvest of Shame was filmed in part in Immokalee -- revealing on a national scale the brutal reality facing farmworkers in the South.
Since then CIW has worked with Yum Brands, McDonald's, Burger King, Subway, Whole Foods, Compass Group, Bon Appetit Management Co., Aramark and Sodexo to demand more humane labor standards from their Florida suppliers, to pay slightly more for more fairly produced tomatoes, and to buy only from growers who meet those higher standards.
But Trader Joe's -- otherwise considered a progressive company -- is a holdout. On Wednesday, tomato picker Oscar Otzoy and a regular Trader Joe's customer approached store managers with a letter asking the company to stop buying tomatoes from noncompliant growers in Florida.
Trader Joe's managers told the Otzoy the company doesn't buy tomatoes in Florida in the summer.
"No one grows tomatoes commercially in Florida in the summer," said Brigitte Gynther of Interfaith Action. "It's too hot -- the harvest happens in states further north. Trader Joe's statement is disingenuous."
Gynther received 2009 Cardinal Bernardin New Leadership Award from the United States Conference of Catholic Bishops for her work with farmworkers of the CIW.