Prospect Residents Wary of Condo Plan's Construction Impact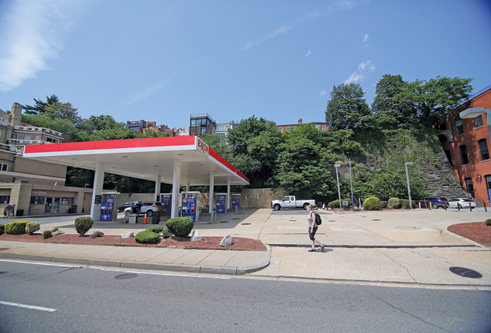 By Cuneyt DilCurrent Correspondent
While a five-story condo project next to the "Exorcist Steps" in Georgetown trudged through the design review process last week, neighbors described a potential horror scenario that construction could bring: a landslide for homes directly uphill.
Half a dozen residents who own homes on Prospect Street, directly above the planned condo development at 3601-3607 M St. NW, say excavation work could disrupt the foundation of the steep hill that offers homes expansive views of the Potomac River and the Key Bridge. They raised the same concern about a previous, similar project at the site, which was approved but ultimately shelved.
Robert Neubauer of Neubauer Consulting Engineers wrote in a 2014 letter to Prospect Street neighbors that much of the surrounding area was built on top of fill soil, and as a result is "extremely susceptible to vibrations." He believes excavation at the site, currently an Exxon station, is a "precarious situation."
"Removing the soil at the base of the steep slope, say, to install an underground parking garage, runs a significant risk of the slope soil failing," Neubauer wrote.
Advisory Neighborhood Commission 2E (Georgetown, Burleith) voted 6-0 last Tuesday to criticize the project's design as well as its potential impact on Prospect Street homes.
Developers of the site, led by Altus Realty Partners — which acquired the site in fall 2016 from EastBanc and retained the original project team's architect — pushed back against concerns of the project's impact to homes on Prospect Street and its design.
The proposed building features a glassy exterior with light gray brick, designed by Amar Sen of the New York-based Handel Architects. The project team hopes to break ground in 2018 and plans to work with Prospect residents to address their concerns, according to Al Troup of Altus. The project requires no zoning relief, but like all projects in the neighborhood, it does need Old Georgetown Board approval.
Troup said the project team has received geotechnical consulting from Schnabel Engineering and that there are a number of concepts to protect the hill, primarily with the construction of a retaining wall. (He declined to release the engineering firm's findings.) "We'd like to be good neighbors, and we've offered several remedies to stabilize their hillside," Troup said.
Luke Russert, a former NBC News correspondent who lives on Prospect Street, said neighbors around him have been concerned about development downhill for years. "We were always worried about what could destabilize this hillside," he said.
Russert and several other neighbors voiced concerns at last Monday's ANC 2E meeting. Among the opponents was University of Maryland professor and Washington Post writer Roger Lewis, who dinged the entire building design as out of scale for the site. "To me, this is a site that demands a more iconic building," he said.
The ANC 2E resolution prescribed that developers and neighbors "negotiate in good faith" to address any structural issues.
Altus plans to return to the Old Georgetown Board in July or September after further alterations to add more symmetry to the roof deck, which will include a pool and mechanical equipment.
This article appears in the June 7 issue of The Georgetown Current newspaper.