Proposed Tweak to Flight Path Wins Few Fans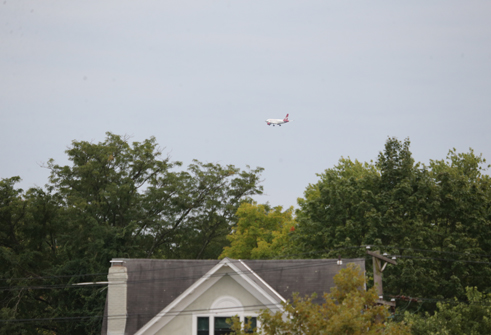 By Brady HoltCurrent Staff Writer
The Federal Aviation Administration's proposed tweaks to flight paths over Northwest D.C. have not impressed affected residents, who say the changes are too minor to significantly improve an unpleasant situation in their riverside communities.
The FAA discussed its "LAZIR B" route plan in an open-house meeting last Wednesday at the Georgetown Library, where officials showed a new flight path that crosses over the edge of Rosslyn rather than passing directly over southern Foxhall Village. Farther northwest, the proposal also shifts the flight path over the Potomac River instead of flying over the Virginia side of the river.
Officials said the new route was chosen by a working group with representatives of the FAA, Metropolitan Washington Airports Authority and affected communities on both sides of the Potomac. But residents in several Northwest D.C. neighborhoods have been seeking more drastic relief: a return to the relative quiet they'd enjoyed before spring 2015, when today's flight path went into effect.
"This sounds to me like a big sham, where you say you listened to the community and then you do whatever the heck you want," one resident angrily told an FAA official Wednesday. Two of his neighbors agreed, referring to the plans as "garbage" and "BS."
Communities from the Palisades to Foggy Bottom have complained extensively about the recent increased disruptions from planes serving Reagan National Airport. One FAA official said today's flight path had emerged in response to complaints from McLean, Va. — those residents and their congressional representatives successfully lobbied for planes to be routed closer to the District. She also said improved technological precision keeps more planes flying exactly the same path, meaning that residents who are most affected by one plane will likely hear numerous others passing in the same spot.
Residents have railed against FAA conclusions that there was "no significant impact" on their communities from last year's change, and say they weren't given adequate notice it was coming. The issue has been compounded by Reagan National's growing popularity and, in particular, its increase in late-night and early-morning flights.
The FAA defines a "significant impact" as an increase in average noise throughout the day by 1.5 decibels if the average noise is already 65 decibels, or the change would increase noise by at least 1.5 decibels to reach or exceed 65. An FAA official said at the meeting that such volumes are typically experienced only in areas directly adjacent to busy airports.
Although the FAA process is required to solicit and consider community feedback, officials said agency regulations focus on the specific decibel levels despite the opinions of affected residents.
Ed Solomon, a Burleith advisory neighborhood commissioner and chair of the DC Fair Skies Coalition, said he'd had low expectations for the meeting.
"We're concerned the changes the FAA wants to make will not have any significant impact on the noise we're experiencing," he said. "We looked at this as more of a show-and-tell exercise."
The Fair Skies Coalition is still petitioning for review of last year's flight path change in federal court, and representatives of the group also meet regularly with other stakeholders, Solomon said.
Visit tinyurl.com/DCA-noise to read documents from the FAA and submit online comments.
This article appears in the Sept. 21 issue of The Georgetown Current newspaper.