Promise Night Takes Center Stage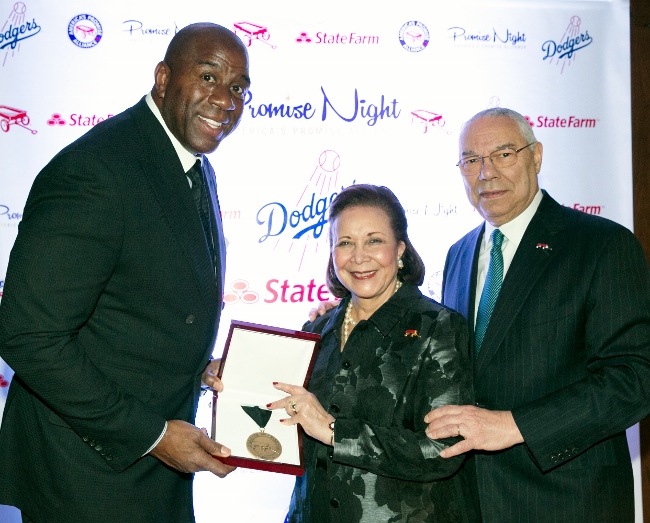 Basketball great and Hall of Framer Earvin "Magic" Johnson, in accepting a Promise of America award at Howard Theater Wednesday night, marveled that he was in the company of Mrs. Alma Powell, who herself has gathered so many honors.
"Mrs. Powell has gotten so many awards that I have to go home and tell my wife Cookie that she has to step up her game," Johnson chuckled.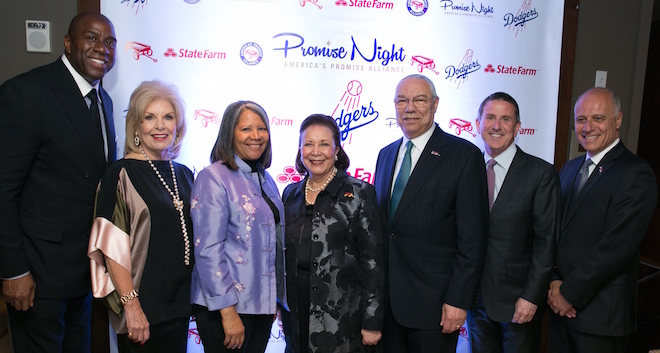 Johnson, who played collegiately at Michigan State and professionally with the Los Angeles Lakers, was one of four outstanding honorees at the 2016 Promise Night gala hosted by America's Promise Alliance. Mrs. Powell is the organization's board chair. Her husband, retired Gen. Colin L. Powell, is founding chair.
While accepting his award, Johnson said he was so moved with the organization, which is dedicated to the education of young people, that he is personally writing out a check for $100,000. His extensive work as chairman and founder of the Magic Johnson Foundation to benefit children includes the Taylor Michaels Scholarship, now supporting 160 students, HIV/AIDS awareness and prevention programs, and community empowerment centers.
Accepting her honor, Patricia de Stacy Harrison, president and CEO of the Corporation for Public Broadcasting, recalled how her grandfather highly valued education. She said he came from Italy at age 15, and later was a barber by profession. "He would always tell young people: "Don't be stupid! Stay in school!"
In his remarks, Colin Powell noted that a video produced by America's Promise highlighting Mrs. Harrison's career featured a young girl in the role of a growing-up Mrs. Harrison. "If you think the young woman in the video bears a striking resemblance to Pat, you're not wrong – that was Pat's granddaughter, Skylar Spain."
Mrs. Harrison initiated American Graduate: Let's Make It Happen, a nationwide public media initiative to help communities across the country identify and implement solutions to the high school dropout crisis. To date, 128 stations in over 40 states, Washington, D.C. and Puerto Rico, are working with more than 1,400 local partners and schools to encourage students to stay on track to graduation.
Honoree Dr. Angela Diaz, director of the Mount Sinai Adolescent Health Center in New York City, recalled her own troubled childhood and how she overcame depression. She went on to pull herself upwards and now heads the largest adolescent health centers in the United States. It provides free service to more than 10,000 primarily low income young people each year.
"Angela has dedicated her career to helping young people experience the promises of safe places and a healthy start," said Mrs. Powell.
Honoree Brian Cornell, chairman and CEO of Target, is responsible for the company's global business of nearly 1,800 stores and Target.com, more than 341,000 team members and millions of guests. This year through its corporate social responsibility efforts, Target reached its goal to give $1 billion for education, providing books, school supplies, food, field trips and more to students and schools across the U.S. and around the world
In her talk, Mrs. Powell recognized Dr. Mary Johnson, a math teacher who mentors at the Washington Tennis and Education Foundation. She said Dr. Johnson has developed a diagnostic test that she believes can identify specific gaps in students' math knowledge in only minutes. "Dr. Johnson, on behalf of America's Promise, I want to formally recognize you as a Promise Hero, and let you know we're donating $5,000 to the foundation to further your work."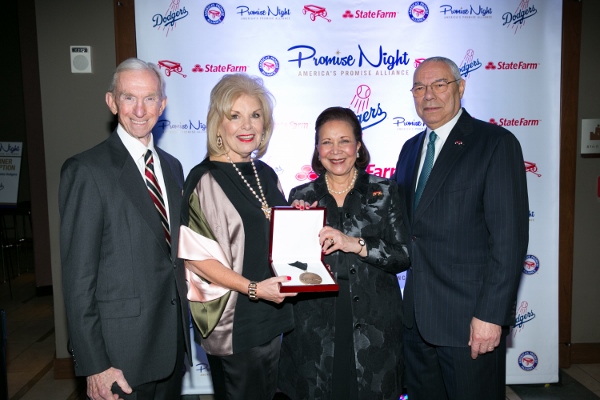 America's Promise Alliance leads the nation's largest network of national organizations dedicated to improving the lives of children and youth. GradNation, the organization's signature campaign, mobilizes Americans to increase the on-time high school graduation rate to 90 percent by 2020 and prepare young people for postsecondary enrollment and the workforce.