Prince Charles Visits Common Good City Farm in LeDroit Park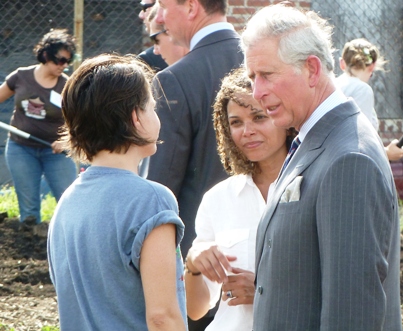 A longtime supporter of sustainable agriculture, His Royal Highness the Prince of Wales paid a visit Tuesday afternoon to an urban farm and education center in LeDroit Park.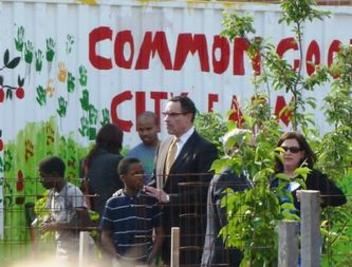 Prince Charles was met at Common Good City Farm by executive director Pertula George, vice-chair, DeeDee Slewka, and D.C. Mayor Vincent Gray. An enthusiastic crowd of young gardeners and neighbors was delighted when Prince Charles graciously made his way around the farm shaking hands, inspecting beds of vegetables and fruit along the way.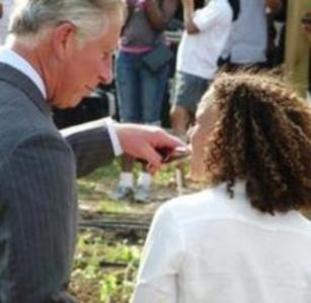 As DeeDee Slewka told The Georgetown Dish, "Prince Charles is very interested in what can be done to counter childhood obesity which is a problem both in the US and the UK. Our farm works in the heart of D.C. to interest youth in growing, cooking and eating fresh vegetables."
Listening intently as herbalist Tricia McCauley explained their medicinal value, Prince Charles was delighted to hear how teaching people to use herbs was a healthy antidote to treating maladies with pills.
An active gardener since 2008 when she first saw the signs go up on her block, Loneice Queen explained, "This used to be a baseball field. Now I have my own raspberry bush." Asked what she liked best about the farm, Loneice said, "You can try new foods … like kale and radishes, eggplant and squash. And they taste better than in the grocery store."
Started in 2007, Common Good City Farm has provided over 400 bags of fresh produce to low-income D.C. families, taught over 1,000 D.C. residents, engaged over 1,500 D.C. school children, and hosted over 2,000 volunteers. Neighorhood children and teenagers are active gardeners in the youth program, learning to grow and cook food after school and on Saturdays.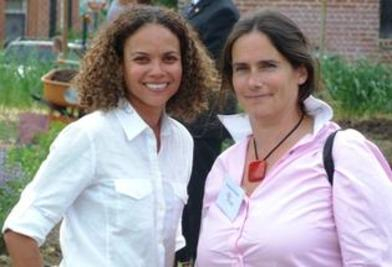 Before he left, Prince Charles planted a Redbud tree.
Wednesday, Prince Charles will give a keynote speech at a conference on sustainable agriculture at Georgetown University.
For more information, contact Common Good City Farm.