The PRIDE Parade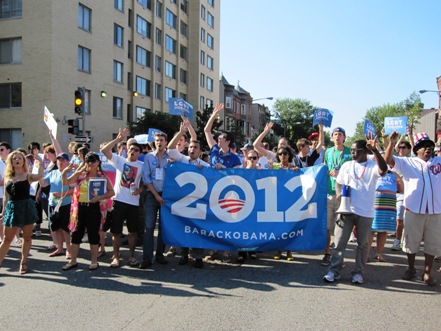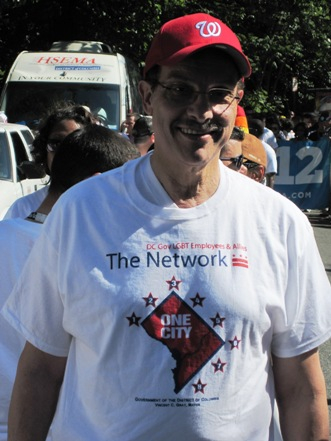 I lost count of how many PRIDE parades I have been too. The first were small ones that trailed around Dupont in the afternoon and ended up with a festival behind the Francis Pool on what is colloquially called 'P' Street Beach, the big stretch of lawn on 23rd and P Street. I do remember my first when I hid behind a tree in the circle afraid that my picture would appear in the Washington Post because I wasn't yet 'out'.
Things have changed over the years for both me and PRIDE. Today I am 'out' and proud of who I am and the parade is a long late afternoon/evening affair with dozens of contingents and floats, bands and politicians that meanders through Dupont over to Logan Circle. The festival is now on Sunday and attracts 250,000 people to Pennsylvania Avenue, sometimes called the nation's Main Street.
Since Anthony Williams first term as Mayor I have walked with the Mayoral contingent all but two years. As we set off from 22nd and P Street at about 4:30pm the first thing I noticed was that the crowds appeared to be bigger than ever. Maybe it was the earlier start or the great weather but it was a little overwhelming to see the diversity; Black, White, Latino and Asian, gay, straight and transgender, young and old who walked and watched in the heat for hours to celebrate PRIDE with the LGBT community.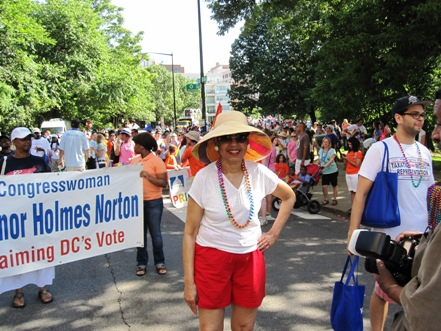 The energy one gets from the crowd is exceptional. As the Mayor's contingent walked up P Street approaching Dupont Circle it was overwhelming, and for me emotional, to see the huge crowds and hear the cheers cascade around Circle. The cheers were for the Mayor who people understand truly believes in working towards and celebrating diversity. The LGBT community has never had a Mayor who worked so closely with them everyday in their fight for equality. But the cheers were also for the city; recognition that despite all its current issues, events like this can bring out 10s' of thousands of people to celebrate together.
The District of Columbia has always been a progressive city. Our residents and our politicians have been overwhelmingly supportive of equal rights and with a recognition that government has a big role in helping those that need a hand and an opportunity to reach their full potential. We have the 2nd lowest number of people without healthcare in the nation and the lowest number of children without healthcare. Our human rights laws are the envy of many and in 2010 we made marriage-equality a reality in the District.
The feeling of camaraderie and excitement that was displayed along the parade route is a big part of why so many people are continuing to move into the District. They all know what a great place it is to live, work, recreate and party.