President Obama visits Bagley residence in Georgetown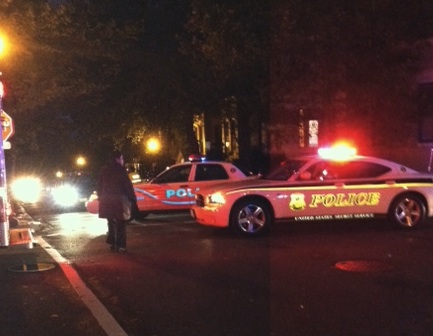 Georgetown was abuzz -- and in gridlock -- as President Obama visited the home of the late Smith and Elizabeth Bagley, shutting down blocks of P, Q and R Streets between 28th and 30th in the East Village as a helicopter hovered overhead. Obama's motorcade pulled up to the residence at 29th and Q at about 7:30 pm.
The Bagleys have been major Democratic contributors and fundraisers. Smith Bagley, born in 1935, was heir to the R.J. Reynolds tobacco fortune. Elizabeth Bagley, who serves the administration as Special Representative for Global Partnerships at the State Department, was ambassador to Portugal during the Clinton administration.
Last week, presidential possible Sarah Palin slammed Georgetown along with Washington suburbs which she said are living it up while the nation suffers. "They spend, they print, they borrow, they spend more, and then they stick us with the bill," Palin said, adding that seven of the 10 wealthiest counties in America are in the Washington area. "There may not be a recession in Georgetown, but there is in the rest of America," Palin said.
Palin partied in Georgetown earlier this year at a White House Correspondents Dinner event hosted by media maven Tammy Haddad and others.
While East Village neighbors are used to celebrities, big pols and parties in this liberal lair, not everyone was happy. "If it is the President, it is UNACCEPTABLE for them to close off the sidewalks to those of us who live here and need to get home because the President is being entertained," shot out Ronda Bernstein of Cambridge Place on the neighborhood listserv. "Once he is in wherever he is, the sidewalk should be open. I hope Councilmember [Jack] Evans' office will complain that people couldn't access their homes by foot or by car in a LARGE section." Democrat Evans noted that Obama faces an uphill climb as next year's election approaches. "It's going to be tough," he said, even before tonight's traffic jam.