Preservation Board Rejects Landmark for Heating Plant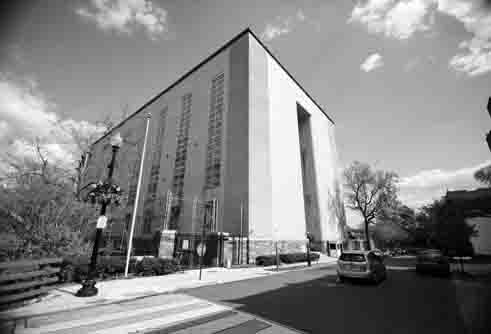 By Elizabeth WienerCurrent Staff Writer

The DC Preservation League wants the West Heating Plant to be recognized as a national landmark. Some Georgetowners want the vacant industrial building gone from their waterfront. Meanwhile, developer Richard Levy wants to demolish and rebuild most of its outer walls to make way for luxury condos.
After hearing all those arguments, the Historic Preservation Review Board voted 4-3 last Thursday against individual landmark status, leaving the fate of the plant as cloudy as ever.
The 1948 plant is already considered a "contributing structure" in the Georgetown Historic District, and some witnesses and board members said that individual landmark status would not provide additional protections. Levy, who has been working for several years to find a new use, said his firm is still running the gauntlet of design review panels that could approve or prevent substantial demolition and reconstruction of the massive masonry and metal building at 1055 29th St.
"This is a protected building, and any demolition requires a hearing by the mayor's agent" for historic preservation, Levy said in an interview later. "The path is the same."
The preservation league's Tisha Allen described the building as "monumental, streamlined … Art Deco stripped of detailing," and said it is significant not only for its architecture but for the role it played in the growth of the federal government.
"For a city with little industrial architecture, the plant stands out. It's had high artistic value even though it's 'just a heating plant,'" said board staffer Tim Dennée.
"We have very few examples of industrial, infrastructure landmarks," said board member Joseph Taylor, who voted to support the designation.
But Levy's structural engineer, Kirk Mettam, argued the building is too far gone to be adapted to human use without essentially rebuilding it.
"It's uninhabitable in its current condition, and can't be made habitable without demolishing" a substantial portion, said architectural historian Andi Adams, also retained by Levy.
That convinced at least one board member to vote against landmarking. "So much of it would have to be removed that it would be lacking in integrity," said member Rauzia Ally.
It's clear the prolonged design review process has used up the patience of some neighbors.
"Our members don't want this albatross sitting vacant, with toxic materials inside," said Victoria Rixey of the Citizens Association of Georgetown. "Yeah, it would be great to save the building. But it doesn't belong in Georgetown. It looks like it landed from Mars. We view the application by DCPL as obstructionist, pure and simple."
Board member Maria Casarella seemed to agree. The architect is not significant enough to justify landmarking his work, she said, so "what we have is a case for memorializing an ecological disaster." Casarella noted the federal government built the coal-burning plant to heat new federal buildings in the Northwest quadrant of the city. The plant, later outfitted to burn oil, shut down for good in the mid-1990s.
Levy's firm bought the building in 2013 after the federal government declared it surplus. The development plans have been vetted repeatedly at community meetings and by competing structural engineers. Still ahead are design review by the preservation board, the Old Georgetown Board and U.S. Commission of Fine Arts. The Levy Group must also convince the mayor's agent to override historic protections by finding that substantial demolition is needed for a "project of special merit."
Though it doesn't short-circuit that process, Levy said later that the board's decision not to landmark the plant is "a victory for the community. The Georgetown Historic District is more important than any one building."
Levy said he's not yet sure if the plans will change, or when he will submit them to the various design review panels. "The community is galvanized around wanting to see something productive at that site," he said.
This article appears in the April 29 issue of The Georgetown Current newspaper.