Prenatal Fruit Intake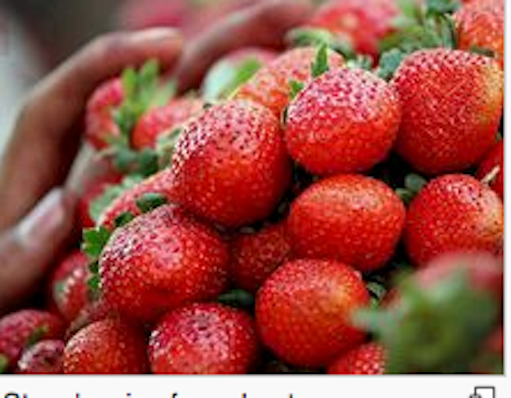 Some of the most interesting nutrition studies I've read have to do with the prenatal diet and subsequent effects in children. The subject is vast and the outcomes amazing. Did you know that when pregnant moms drink high amounts of carrot juice during pregnancy, their toddlers are more likely to choose carrots over other vegetables? Or, that the more varied a pregnant mom's diet, the more her child will choose and enjoy a wider variety of foods? All proven by science!
So it's no surprise that a new study published in The Lancet found that prenatal fruit consumption is correlated with superior cognition in the mothers' one-year-old infants - though there was no effect if fruit was only fed to the child during the year after birth. So, what may explain this finding?
Evolution may explain, in part, this advantage of fruit-eating. During the neolithic (stone age) period about 12,000 years ago and for thousands of years thereafter, we subsisted mainly on fruits and vegetables; which comprised about 65% of our calories, according to S. Boyd Eaton, from the department of Anthropology at Emory University in an interview and in his essay, "Evolution, Diet and Health." That may mean that brain development is still dependent on the same high level of vitamins, minerals, antioxidants, and other positive nutrients that kind of diet would provide. And this could help explain why, even today, a high fruit diet is correlated with so many positive health benefits: reduced incidence of diabetes, heart disease, cancer, arthritis, eye disease, and other conditions. Keep in mind, too, that the health-giving Mediterranean Diet had 12 to 13 servings of fruits and vegetables daily, and it's known as one of the healthiest diets on the planet.
Fruit is so easy to eat every day, and the local fruit season is just beginning to get exciting. I was most fortunate to receive one of the most delicious dishes I've ever eaten this weekend when my friend and neighbor, Mike Gardner, brought me his salad:
Mike Gardner's Springtime Strawberry and Goat Cheese Salad This is a great salad for a hot day. Let the strawberries sit long enough to absorb the balsamic vinegar flavor while you take time to catch up with friends and enjoy the summer day. Ingredients For the strawberries:1 pint of ripe strawberries, if they are large, cut them in half1/2-3/4 cup balsamic vinegar For the salad:Baby spinachBaby arugulaGoat cheese crumbles1 small red onion, sliced For the dressing:3 tbsp balsamic vinegar1 tsp dijon mustard1/4-1/2 cup olive oilsalt and pepper to taste DirectionsPrepare the strawberries by placing them into a bowl and add the vinegar. Let them sit for a while to absorb the flavor of the vinegar- an hour or better. This can be done at room temperature.In a separate bowl. make the dressing by combining the vinegar, dijon mustard, salt and pepper. Slowly stream in the olive oil, tasting for flavor balance. If necessary, add additional mustard to taste.When ready to serve, combine equal parts of baby spinach and arugula. Add in the sliced red onion, and lightly toss the salad with a small amount of dressing, adding more as necessary slowly dressing the salad as to not drench it all at once. Add the goat cheese crumbles. Lastly, plate the salad onto a chilled serving plate. Using a slotted spoon, remove the strawberries from the vinegar and place them on top of the greens. Finally, top with fresh ground pepper and serve.