Possible Redevelopment of Gas Stations Sparks Concern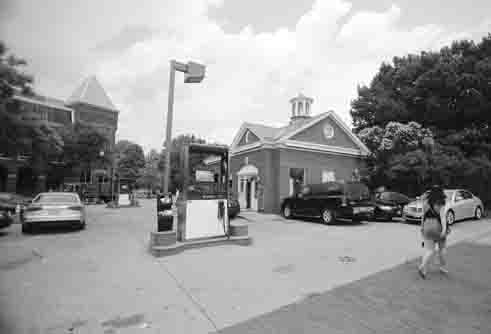 By Brady HoltCurrent Staff Writer
Georgetown could be losing three of its four gas stations in the coming years as developers eye their valuable land.
Developer EastBanc is far into the approval process to build condos on the site of the Key Bridge Exxon, and the company is reportedly also in negotiations to buy the service station at M Street and Pennsylvania Avenue. And according to Georgetown advisory neighborhood commissioners, the Exxon at 1601 Wisconsin Ave. could also be sold, with a developer being the most likely buyer.
At the commission's June 30 meeting, several commissioners said they were concerned about the possible redevelopment.
"We are a historic district, but also we're a living community that needs gas stations," said commissioner Tom Birch. "I hope we can find a way to keep the gas pumping."
The condo project at the Key Bridge Exxon site is currently working its way through the Old Georgetown Board design review process. Tom Luebke, secretary to the U.S. Commission of Fine Arts (which includes the board), said the board's most recent comments were largely requests for clarifications in the application documents rather than calls for further substantive changes.
The project, dubbed Hillside, includes 26 to 28 units in a 50-foot-tall modern-looking building at 3601 M St., the base of the "Exorcist Steps" leading up to Prospect Street. EastBanc is also working with Prospect Street residents regarding the stability of the retaining wall behind the property.
Meanwhile, the Washington Business Journal reported last month that EastBanc is also pursuing the service station on the other end of M Street in Georgetown, across from the Four Seasons. The company's Anthony Lanier told the paper that he's preliminarily looking at 15,000 to 18,000 square feet of residential development there.
The future of the third station, the Exxon at Wisconsin Avenue and Q Street, isn't yet clear. The Current couldn't reach the owner to confirm the neighborhood commission's news that he intends to sell the property. But several residents at the meeting said that they wouldn't shed a tear over its redevelopment. They said the station brings a lot of traffic to a congested and confusing intersection, and deters tourists from exploring the area north of Q.
"It's not the most pleasant appearance, and I think the shops on Book Hill have long complained that people walking up the hill shake their heads and turn around," said Topher Mathews, who also writes the Georgetown Metropolitan blog.
But commissioners noted that Georgetowners still need a place to fuel, maintain and repair their cars.
"I understand the concern about walking up Wisconsin Avenue," said neighborhood commissioner Ed Solomon. "But I think this is something where we should look at the big picture. … We need these services and don't want to just have them lost, because once they're gone they're gone."
This article appears in the July 16 issue of The Georgetown Current newspaper.