Possible Change for K Street/Water Street Would Cut Into Parking Spaces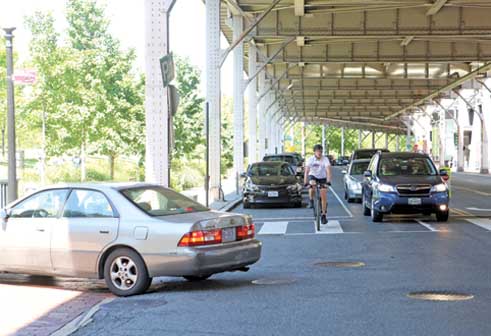 By Mark LiebermanCurrent Staff Writer
Tentative plans to remove more than 40 metered parking spaces below the Whitehurst Freeway to accommodate a dedicated bike lane and other traffic enhancements drew mixed reviews from the Georgetown community Monday night. However, all agreed that the current roadway configuration needs improvement along K Street/Water Street NW.
The Georgetown Business Improvement District partnered last year with the D.C. Department of Transportation and Toole Design Group to plan short- and long-term improvements along the neighborhood's southernmost street, which runs near the Potomac River. The first phase, set for implementation this fall, includes a bike lane between 34th and 30th streets NW, improved and expanded crosswalks, an improved system for tour bus drop-off and a new left-turn lane from K Street westbound onto Wisconsin.
Those improvements — estimated at a price tag in the "low six figures," according to the business group's Will Handsfield — could come at a cost to some stakeholders as well. Between 30 and 35 parking spots on Water and K west of Wisconsin would be eliminated, as well as 10 others east of Wisconsin, Department of Transportation planner Benito Perez said at Monday's meeting of Advisory Neighborhood Commission 2E (Georgetown, Burleith).
Vehicular traffic flow would not be altered under the current plan, Perez said. But he acknowledged that a loss of parking could exacerbate existing issues on the street, which already offers limited parking for a high-demand area.
Handsfield said he's working on securing dedicated nighttime and weekend spots in nearby parking garages that could partially offset the loss of metered parking.
ANC 2E voted unanimously to express gratitude for the plans while maintaining that questions about parking remain. Numerous residents praised the plan, saying they think a significant number of motorists who currently clog up K and Water streets searching for parking won't bother if they know they won't find it. But several ANC 2E members expressed concern that removing parking will inconvenience residents and visitors while also failing to resolve existing congestion there.
"I think it's unrealistic to think the drivers are going to stop driving because they can't find parking," commissioner Monica Roache said.
Roache acknowledged she doesn't live in that portion of the neighborhood, and might not be fully aware of the issues there that parking cuts could address. By contrast, ANC 2E's Lisa Palmer said she receives frequent messages from constituents with photos of pervasive gridlock. One resident saw emergency vehicles blocked by stopped traffic last weekend.
In the meantime, ANC 2E included in its resolution a request for more immediate traffic mitigation measures from the Department of Transportation: traffic control officers and possible timing adjustments on traffic lights on Wisconsin north of K. Commissioner Rick Murphy also described plans to create a subcommittee within ANC 2E that will help address parking issues there and elsewhere in the neighborhood.
A turnaround at Water and 34th streets NW — previously slated for the project's first phase — has been delayed until 2019, when the Key Bridge reconstruction is complete. Long-term plans for K and Water streets include accommodating the proposed DC Streetcar extension by relocating the bike lane onto a pathway through Georgetown Waterfront Park.
This article appears in the April 5 issue of The Georgetown Current newspaper.