Pope's Visit to Alter Traffic Patterns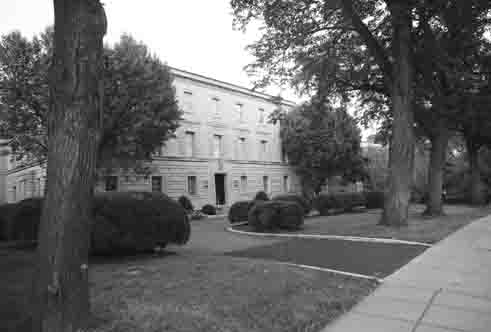 By Mark LiebermanCurrent Staff Writer
As Pope Francis makes his first visit to the United States next week, his two-day stop in the District of Columbia brings anticipation, crowds — and traffic changes.
Though most of the pope's activities will center around the White House and downtown, Upper Northwest D.C. will also see a number of impacts, particularly along and near Massachusetts Avenue.
Pope Francis arrives in the District on Sept. 22 at 4 p.m., but restrictions at the Vatican Embassy at 3339 Massachusetts Ave. NW, where he'll be staying, begin the morning of Sept. 21 and last until he leaves at 4 p.m. Sept. 24. And a variety of road closures will be in place in the area for the duration of his visit, with detours suggested, such as one diverting Massachusetts Avenue drivers to Rock Creek Parkway. (More specifics are listed on page 5 and available at pope.dc.gov/node/1110904).
More than 70 D.C. Department of Transportation officials, with backup from the National Guard, will be patrolling impacted streets and managing traffic patterns during the visit, according to transportation agency spokesperson Terry Owens.
"We're going to do our best to ensure that people use the alternate routes that we're directing people to. But of course we can't control how people are going to try to navigate around this closure," Owens said. "The best we can do is put this information out there based on our knowledge of the most effective routes … and communicate that information."
Transportation officials have advised D.C. commuters to telework during this time if possible, while the Washington Metropolitan Area Transit Authority is warning of intermittent service interruptions and large crowds.
According to Metro's website, during the papal visit the "N" bus routes along Massachusetts Avenue NW will operate only between the Friendship Heights Metro station, the Tenleytown Metro station and the Washington National Cathedral. The 30s bus routes along Wisconsin will run less frequently than normal.
Delays and shorter routes are possible on all bus lines near the affected areas, Metro warns. The agency is encouraging riders to transfer to rail as soon as possible, and it will be offering free bus-to-rail transfers.
Nancy MacWood, a member of the Massachusetts Avenue Heights/Cleveland Park advisory neighborhood commission, said she hopes the city releases more details about the full traffic impact of the pope's visit soon. She's concerned that 34th Street and Wisconsin Avenue will be affected more than the current road closure schedule suggests.
MacWood predicted that losing access to Massachusetts Avenue will be a big adjustment for locals.
"It's going to require an awful lot of patience, both for our residents but also the commuters that are used to using Massachusetts Avenue and are suddenly going to be detoured to neighborhood streets that they may not be very familiar with," MacWood said. "Frankly what I've heard from a lot of residents is they're going to be working from home."
Massachusetts Avenue Heights advisory neighborhood commissioner Catherine May said her constituents are excited and honored by the prospect of the 266th pope coming to D.C.
"I think everybody welcomes his visit and understands it's an extremely important gesture on his part to visit us," she said. "Everybody understands there will be traffic problems and [they] are willing to roll with it. We're asking for as much advance warning as possible."
Residents planning to attend one of the pope's events in D.C. should pack carefully. Officials last week released a list of items that won't be allowed into any of the events, including balloons, bicycles, large bags, backpacks and even selfie sticks. The full list can be found at pope.dc.gov/node/1110687.
Details on some of the parking restrictions and road closures in Northwest:
■ Parking on 34th Street NW between Massachusetts Avenue and Fulton Street will be restricted from 10 a.m. Sept. 21 until 4 p.m. Sept. 24. That restriction will extend from Massachusetts to Garfield Street beginning at midnight on Sept. 22, at which time Fulton Street between 34th Place and Normanstone Drive will also be closed to parking.
■ All above stretches will be closed to vehicular traffic beginning at 9 a.m. Sept. 22 and ending when the pope leaves on Thursday.
■ For the duration of the pope's visit, northbound traffic on Massachusetts Avenue NW between Observatory Circle South and 34th Place will be diverted to Rock Creek Parkway at Waterside Drive.
■ Southbound traffic along Massachusetts Avenue NW between 34th Street and Waterside Drive will be permitted.
■ The city's website also warns that traffic on Massachusetts Avenue will intermittently shut down entirely.
This article appears in the Sept. 16 issue of The Georgetown Current newspaper.