Pop Rubber Necklace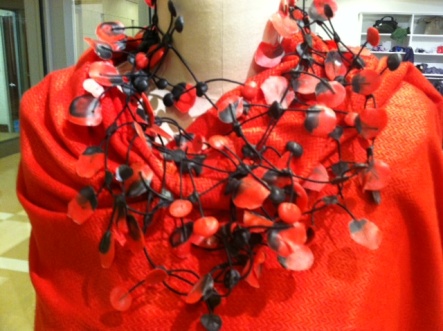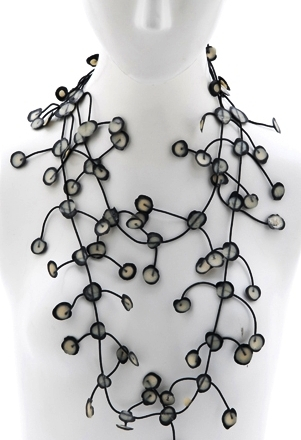 Mine also has a touch of brown in it, but this silver and black polka dots 'Pop' rubber necklace (shown at right) on an elastic cord by celebrated Dutch designer Annemieke Broenink is currently my favorite piece of jewelry.
Been wearing it constantly since Thanksgiving when I discovered it at Upstairs on 7th. In there to pick up a jacket when boutique owner Ricki Peltzman had just received a huge shipment of rubber necklaces. I had my pick from a dozen different color and size combinations. Annemieke makes a style called 'Petals' too (shown above).
Three reasons why I love it:
1. Versatile. It can be worn doubled, single or wrapped around the wrist as a bracelet.
2. Tactile. Every time I wear it, people come up and want to play with it.
3. Airport Security-Ready. No beeping.
And what thief is going to grab something that looks like a bunch of spiders?
Upstairs on 7th is located at 555 12th Street, NW. Tel: 301.351.8308