Pop! Kapow! Georgetown Tennis Attracts Warriors and Friends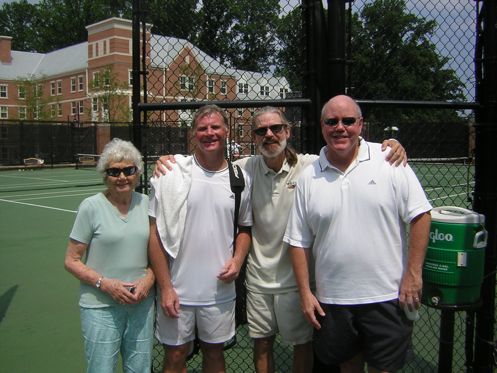 Pow! Thwack! Pop! These weren't the sounds of aging joints, but a spirited USTA Mens 50s Tennis Tournament held recently at "The Tennis Club of Georgetown," the lovely,
Image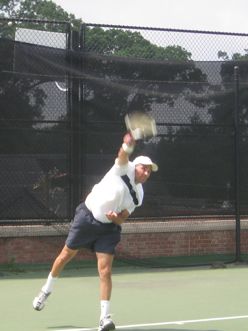 renovated George Washington Tennis Center off Foxhall Road.
Jim Clooney flew down from Oyster Bay, New York to play in the Mid-Atlantic competition. His game was powerful even though he'd just picked up his racquet after a 20-year hiatus. What made him start playing again? "I had my hip replaced," he said. "It's the only part of me that doesn't hurt right now."
"My wife said, 'Your life insurance is paid up. Have fun!'" added Ken Barnas (right), a longtime regional competitor. He griped as a third set loomed after two hours against genial opponent Ken Brown (below left).
Both Barnas and Clooney were underselling themselves. Each reached final rounds of the tournament.
Image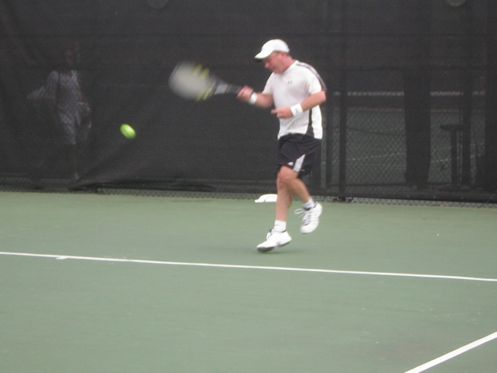 Good thing: Clooney's wife Madeline, a criminal defense attorney, was watching every point (below right). In between sets, she discussed a recent Supreme Court decision.
"We've had no incidents here, no problems whatsoever," assured USTA referee Jonathan Minor, who quietly kept the peace and a good atmosphere despite the mid-90s heat. "This facility is very nice."
Being a referee at junior tournaments can be different, he said, including problems with line calls and "forgetting" the score. " At this tournament it's more finesse than power. You don't have the problems." A high-profile 16-and-under tournament takes place at
Image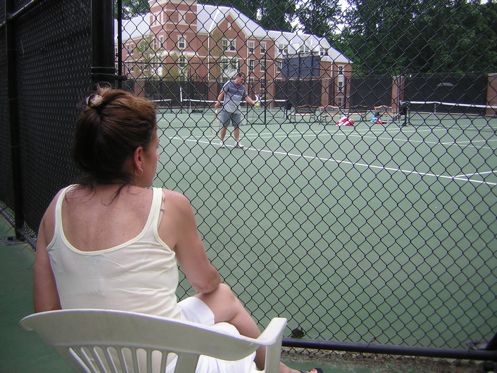 the Club July 10-11, promising fierce competition.
For Otis Barnes, a neighbor, Saturday's USTA tournament was more than a tennis contest. He walked up to the courts from his nearby Foxhall home to see a childhood friend, Alan Mischler -- like Barnes, a Kenwood Country Club tennis alum and former junior competitor -- battle it out in the quarter finals. "I recognize some of these guys from 20 years ago," Barnes said. "I'm glad to see them out here being the warriors they are."
Mischler, a financial consultant and graduate of Little Flower and Georgetown Prep, was courteous even as music theory professor Ward Harris won in straight sets.
Harris is accustomed to grueling battles: when not on the tennis court, he teaches classical music to Montgomery College students. "I listen to their music -- 50 Cent and Ludacris -- to try to understand where they're coming from," the pony-tail clad Harris said. "I consider myself a Roto-Rooter man for the ears."
Unlike at some junior tournaments, even the parents were well-behaved. Janet Mischler, Alan's mother, recalled that Alan and Otis' fathers played together, sometimes sweeping snow off the Kenwood courts to get a game in. She noted that her sister dated Otis' uncle. "For quite some time," she smiled.
The George Washington Tennis Center hosts weekly children's tennis camps, adult tennis socials, private and group lessons, men's and women's teams and ladders, free ball-machine use and 11 new courts, seven days a week.