Pop-Up Bee Pollinator in Fairmont Lobby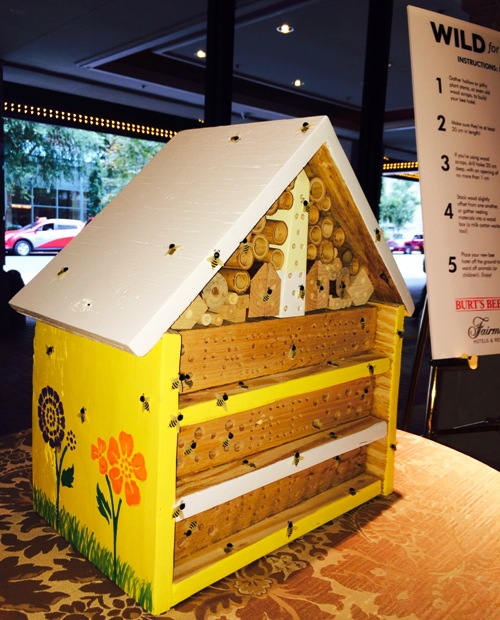 Across the country, pollinator bees have been on a steady decline for decades due to loss and fragmentaion of haibitat. This is impacting the health of ecosystems, the reproduction of the majority of flowering plants and pollination of food.
The eco-friendly Fairmont Washington, D.C., Georgetown is adding a pollinator bee hotel to its collection of rooftop honeybee hives in spring 2015. To launch this new initiative, the hotel is displaying a "Pop-Up" Pollinator Bee Hotel in the lobby, and serving a pollinator menu in Juniper Restaurant. A portion of the proceeds from the menu and the hotel's signature cocktail, the BeeTini, will support the District of Columbia Public Schools' Junior Beekeepers initiative from August 18 – October 31, 2014.
In spring 2015, approximately 10 public schools in the District of Columbia will have their own beehives. - Through the school system's new science instruction standards, students will learn about beekeeping and how to harvest honey in a truly experiential manner.
Fairmont Washington, D.C., Georgetown welcomed 105,000 Italian honeybees in May of 2009. The rooftop is now abuzz with three honey beehives and their residents. The bees enhance the hotel's culinary program along with its interior courtyard garden that already provides fresh herbs and flowers such as edible pansies. "The addition of a pollinator bee hotel, will be a tremendous asset to the cross pollination of the flowers and trees in the courtyard and the surrounding Georgetown neighbourhood, states Mark S. Andrew, Regional Vice President Northeast U.S.A. and General Manager. "We look forward to supporting DC's Junior Beekeepers as they learn how to enhance the nation's bee population."
A pollinator bee hotel is a collection of nesting materials (wood, twigs, fallen branches, soil and pith-filled holes) designed to attract, support and protect native, lost and solitary bees by replicating their natural nesting sites. This allows the bees to breed, lay eggs and seek protection from predators.
To learn more about Fairmont's sustainability efforts and ongoing commitment to supporting bee health, please visit fairmont.com.