Pompeo Is Where He Wants To Be: The Nation's #1 Diplomat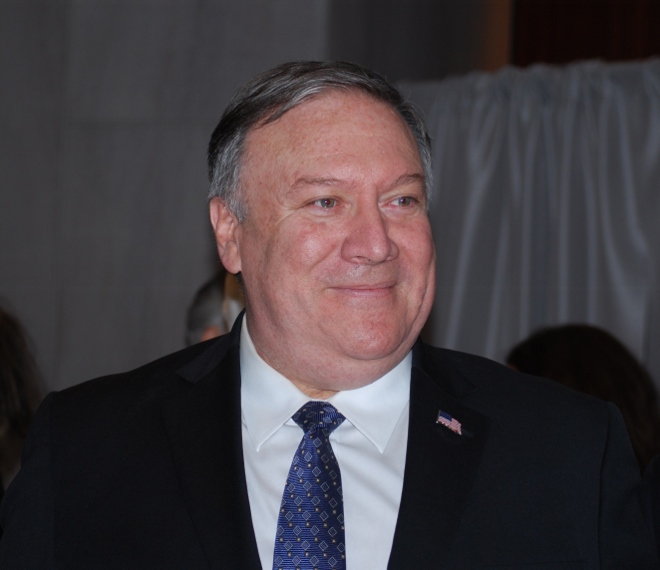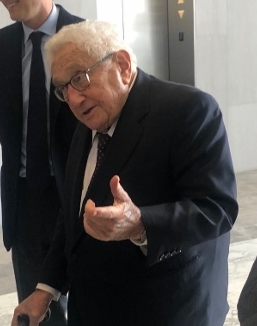 "I remember thinking when I was growing up in Orange County [California]; I want to be as important as Henry Kissinger.
I still do."
So said Secretary of State Michael Pompeo.
The two diplomats rubbed shoulders Saturday at the Pre-Alfalfa Club luncheon sponsored by a think tank, the Center for Strategic International Studies, in Washington, D.C. Kissinger is 95.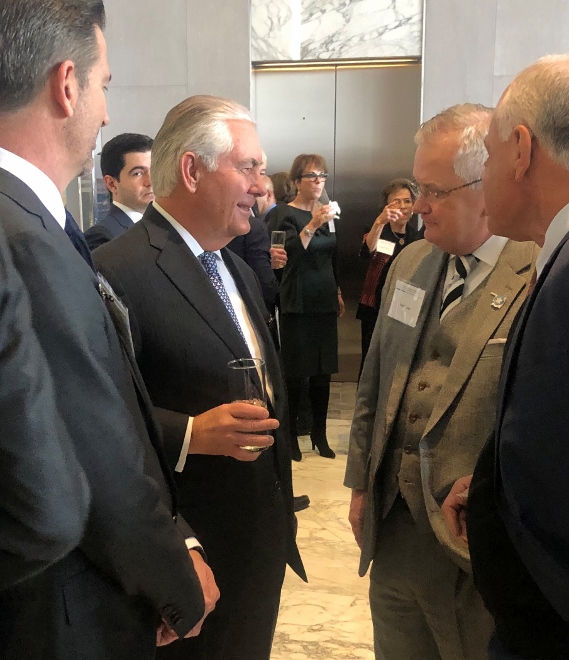 And that wasn't all: a third man of the State Department, Rex Tillerson, and a fourth, George Shultz, also were among the several hundred guests trading memories and current views of the world.
Pompeo also made it clear he isn't trading jobs despite press reports that he was recently pushed to run for the U.S. Senate in Kansas next year. "I'm not doing THAT. I've done THAT." That was as a Kansas congressman before President Donald Trump tapped him for State.
Pompeo came directly from the United Nations in New York to give his CSIS talk, where every last seat was filled.
Asked in a Q&A about the political chaos in Venezuela, he replied: "We've been working at this for quite some time…to create a situation where we get real democracy." But he said, "rebuilding will take years."
Among the long CSIS list of invited notables were diplomats, leading business figures, current and ex members of the Senate and the House, as well as famous officials of present and bygone administrations.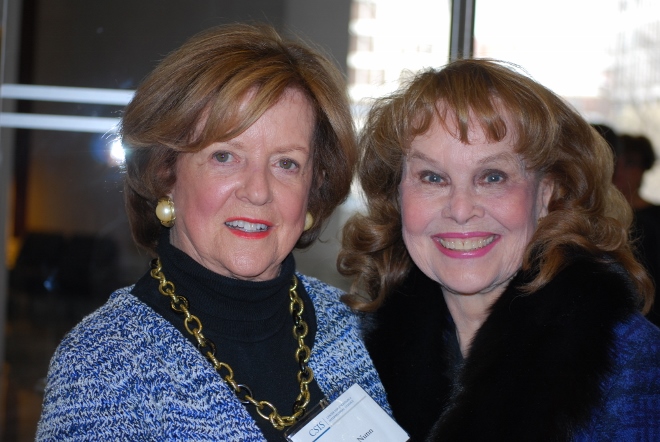 Erskine Bowles, Jean Case (CEO, Case Foundation), Elaine Chao, Lloyd and Ann Hand, Jane Harman, Kay Bailey Hutchison, J. Willard Marriott Jr., William McSweeny, former Georgia Sen. Sam Nunn (co-chair of The Nuclear Threat Initiative & chairman emeritus and trustee of CSIS),
Michael Mondavi (founder of the Michael Mondavi Family Estate (providers of the luncheon wine) and family, Michelle Nunn (president & CEO of CARE USA), San Francisco philanthropists Bill and Laurie Grayson, Peter G. Peterson Foundation CEO Michael Peterson, former Nebraska Sen. Ben Nelson, former California Rep. David Dreier, former Michigan Gov. John Engler,
Former Sen. Charles Robb and Lynda Robb, former Sen. Alan Simpson; Gov. Mark Gordon of Wyoming, Walter and Didi Cutler,
Patrick Steel (CEO, Politico), Italian Ambassador Armando Varricchio, Ambassador William Hagerty (U.S. embassy in Japan), Ambassador Jose Manuel de Gallego Romualdez (Embassy of the Republic of the Philippines), and Tenley Albright (director, MIT Collaborative Initiatives).