A political power fast lane from Baltimore to D.C.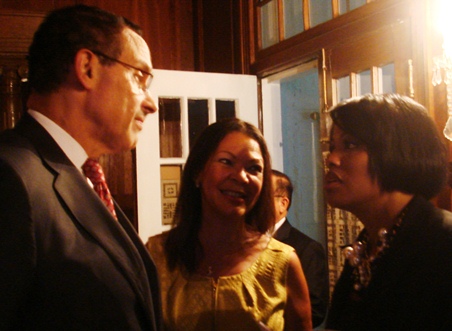 Bonding can be a good thing, either on Wall Street or between two big city mayors whose domains are less than an hour apart on I-95.
"Stephanie Rawlings-Blake is an odds-on favorite to be elected to a full term as mayor of Baltimore city," said D.C. Mayor Vincent Gray at a fundraiser for the incumbent Tuesday night in the District. "I'm predicting here and now she'll get 65 to 75 percent of the votes. I'm delighted to call her a friend."
Early in 2010, Rawlings-Blake succeeded Sheila Dixon as mayor when Dixon resigned as a result of her conviction for embezzlement. Rawlings-Blake had been president of the city council. Under Baltimore's charter, the president steps in as mayor when the elected sitting mayor no longer is able to serve.
It was two hours of mayoralty bonding, as Gray and Rawlings-Blake greeted some 70 contributors to her election campaign. Baltimore's primary is in September.
The mayors have common ground: they headed their respective city councils before succeeding controversial mayors.
The fundraising reception was held at the Northwest D.C. home of Donald Richardson. Besides Gray, other co-hosts were public relations executive Linda Mercado Greene, who has known Rawlings-Blake for years (they refer to each other as political sisters), and Zina C. Pierre, a D.C. civic leader and former broadcast journalist.
Among the guests were Ambassador Tebelelo Mazile Seretse of the Republic of Botswana and D.C. City Councilmember Yvette Alexander.
In her talk, Rawlings-Blake, 41, said she has accumulated a record as mayor that she is proud of: reforming the school system, closing a large deficit without raising property taxes or laying off public safety employees, and leading a city that has experienced its lowest homicide rate in a generation.
"We are linked," in many ways, she said of D.C. and her city. "We have our challenges, and we are meeting these challenges."
Nobody asked her what she thought of the oft-floated alternative to Statehood for the District – returning all but the federal buildings core to Maryland, where Washington would be a big-city competitor of Baltimore for state dollars and political power.
-- by Natalia Janetti