Police Chief Eyes Enlarged Patrol Areas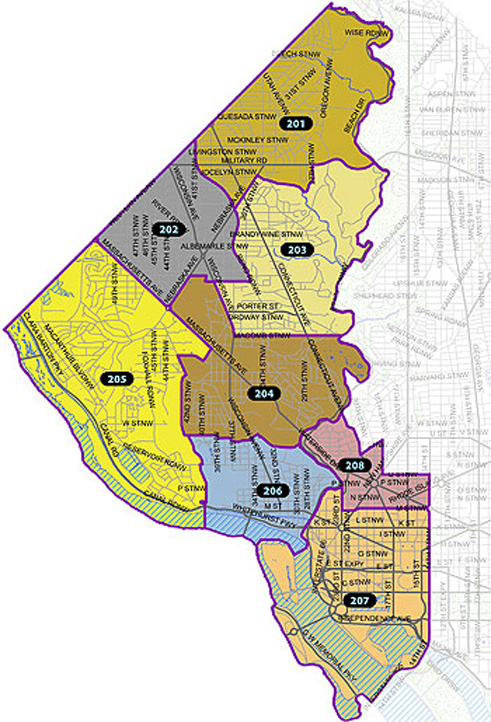 By Brady HoltCurrent Staff Writer
The District's police service areas — neighborhood-level boundaries in which officers patrol — will soon be consolidated into larger sectors, according to Metropolitan Police Department 2nd District Cmdr. Melvin Gresham.
Speaking at a community meeting Monday, Gresham said the existing police service areas, known as PSAs, will be clustered into groups to form the larger sectors. The change will allow the same officers to be allocated within a greater area when staffing shortages arise, and will grant existing PSA lieutenants control over the full sector during their shifts, according to Gresham.
"Traditionally, we're running into an issue with retirements and ... attrition, and you would have certain PSAs that would not have full coverage," Gresham said at the meeting of Advisory Neighborhood Commission 2E (Georgetown, Burleith). To solve that problem, he said, Police Chief Cathy Lanier "thought it was better to consolidate the PSAs into the sector concept."
In the 2nd District, PSAs 201, 202 and 203 — encompassing Chevy Chase and Friendship Heights south to Tenleytown and Cleveland Park — will become Sector 1; PSAs 204 and 205 in Woodley Park west into the Palisades, Foxhall and Spring Valley will become Sector 2; and PSAs 206, 207 and 208 — Georgetown and Burleith eastward into Foggy Bottom, the West End, Sheridan-Kalorama and part of Dupont Circle — will be Sector 3. The change will go into effect Sept. 18, Gresham said.
The police department did not respond to a request yesterday for more details about the proposal — including information on the sectors in other police districts and how the sectors' groupings were chosen — except to confirm receipt of the questions.
Unlike the last change to PSAs — a shift to their boundaries in 2012, which prompted a series of public meetings and D.C. Council deliberations — there has been little notice provided about their replacement with the "sector" model.
Brian Turmail, chair of the 2nd District Citizens Advisory Council, said Lanier addressed a small gathering at his group in July and the advisory council discussed it again in August.
"As much as I would like to think everyone is paying attention to the CAC, we have a dozen, two dozen people at our meetings out of all of 2D," Turmail said. "The department still has a lot of work to do in terms of communicating to the community this change, and I think they're working on that."
Turmail, who also serves on ANC 3B (Glover Park, Cathedral Heights) added that the commission is slated to discuss the issue at its Sept. 8 meeting.
At the ANC 2E meeting and in interviews, several community leaders expressed some reservations about the proposed change, fearing that officers who'd forged a connection to their beats would be sent elsewhere in a large sector. Lt. Gary Durand, who now heads PSA 206 and would become one of the three Sector 3 lieutenants, said he wasn't concerned. "I don't think on your level you'll see the change," he told residents.
The community leaders interviewed for this article generally expressed a willingness to see if that assurance rings true.
"We want to have adequate coverage here; the commander assured us that we would, so I will take him at his word," ANC 2E member Ed Solomon said.
Turmail of the Citizens Advisory Council said he's "kind of in a watch-and-wait mode" regarding the change amid the concerns that have cropped up.
"We want to be ready to support the department, and we want to be ready to help the department if it doesn't work out as planned," he said. "We would love to be shown that they're absolutely right, and if they're not, we'll help make it right."
This article appears in the Aug. 31 issue of The Georgetown Current newspaper.