Planned Shelter Sites Spark Initial Debate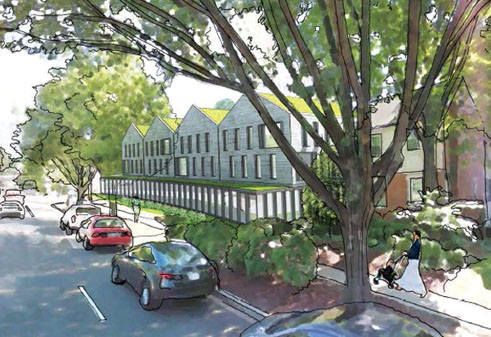 By Cuneyt DilCurrent Correspondent
In the wake of a proposal to build a network of family homeless shelters across the District, Mayor Muriel Bowser's administration is hearing general support for the idea but some concerns about the specific locations selected for the facilities.
The neighborhood shelters are part of Bowser's plan to close the dilapidated and overcrowded D.C. General facility. Every ward will house a family shelter under the proposal, except for Ward 2, where an all-women's shelter opened last week at 810 5th St. NW with Bowser cutting the ribbon. The goal is to house residents in the other ward facilities for about 100 days until they can move to longer-term housing.
The city estimates there were 1,311 homeless families in 2015, a sharp rise from 800 six years ago.
At community meetings held in every ward last Thursday, the public got its first chance to weigh in on the approximately $22 million project. In Ward 3, most attendees said they would welcome a shelter at Wisconsin Avenue and Edmunds Street NW, currently a grassy plot of vacant land across from the Russian Embassy.
In Northwest, more contentious debates have ensued in wards 1 and 4, where some residents are opposing the planned locations, and a group of Ward 3 residents spoke against the Wisconsin Avenue site at last night's meeting of Advisory Neighborhood Commission 3C (Cleveland Park, Massachusetts Avenue Heights, Woodley Park).
In Ward 1, a currently vacant church building at 2105-2107 10th St. NW would be renovated to hold 29 units. Ward 1 D.C. Council member Brianne Nadeau has spoken in favor of the shelter, but residents at the meeting were more conflicted, according to media reports. A flier circulated said that the site was chosen "with no resident opinion input" and that a shelter would cause "congestion, loitering, safety [and] decreased property values" in the neighborhood.
Meanwhile, the proposed 49-unit shelter in Ward 4 would replace a blighted building at 5505 5th St. NW.
Nancy Roth, an Advisory Neighborhood Commission 4B member, says there is "unanimous" support for closing D.C. General. But she worries about the site in her ward, adjacent to a stretch of Kennedy Street NW she says has been underserved by the city.
"It's fragile," Roth said of the community, "and if you put a facility like this with vulnerable people, shuffling in for 90 days and shuffling out, what kind of engagement can we have with these families?"
Residents citywide are also asking how and why the locations were chosen. A woman at Ward 3's public meeting pressed Department of Human Services director Laura Zeilinger for the administration to make public what other locations were considered in her ward and why the Massachusetts Avenue Heights site was ultimately chosen. Some residents want to file Freedom of Information Act requests to make the Bowser's administration's deliberations public.
Bowser has pushed back on requests for more details and has said that none of the locations are negotiable in her push to quickly close D.C. General. The mayor hopes to open the shelters by the end of 2018, with most beginning construction next year.
In Ward 3, former Wesley Heights advisory neighborhood commissioner Kent Slowinski suggested at the public meeting that the city look to shrink the size of the proposed 38-unit shelter and instead build smaller ones spread over the ward. The currently proposed facility, neighboring single-family homes just north of Glover Park, would need zoning relief to build added density, a concern for some residents.
"It is a site zoned for, at most, 3 single-family homes, on which the city proposes to house 38 families, as well as wrap-around services," a statement from the Massachusetts Avenue Heights Citizens Association reads, laying out strong reservations about the proposed scale of the shelter. "The impact of this proposed facility is not yet understood."
Two dozen residents packed the beginning of ANC 3C's meeting Tuesday night, speaking out against the chosen location. Bowser's Ward 3 outreach representative Mike Matthews said public discussions will be held to hear feedback on design and other site tweaks, but reiterated that the location is final.
"Nobody cares about design," a few residents blurted out in response. Many at the meeting wanted more transparency behind the site selection process and hoped for extensive review of the plan from the D.C. Council and zoning authorities.
Ellen Nedrow Sullivan, an ANC 1B commissioner whose single-member district includes the proposed Ward 1 shelter site, said her commission is working on scheduling public meetings specifically addressing the 10th Street shelter. In a statement, the commission said it will treat the development as any other project. "We see a great opportunity to increase the social services provided to the greater community while ensuring residents are cared for before, during, and after their tenancy," the statement said.
The D.C. Council plans to hold a public hearing or roundtable on the matter, according to Chairman Phil Mendelson's office, but a date hasn't been picked yet.
This article appears in the Feb. 17 issue of The Georgetown Current newspaper.