Plaid Played Well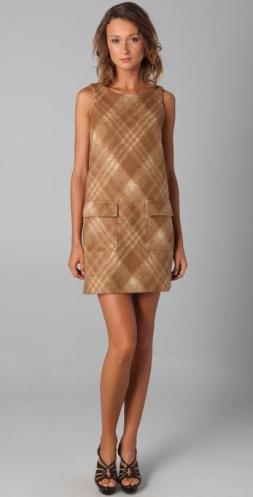 This season designers went mad for plaid! Some are hesitant though to embrace this returning trend - I for one am reminded of days on the playground wearing my plaid skirt, white button down and black patent Mary Janes - but there are plenty of ways to wear plaid and make it look up-to-date!
The Shoshanna plaid pocket shift dress featured above is absolutely darling - in a grown up way - and would look fabulous worn as shown paired with nude heels or heeled penny loafers and then you can throw on a fun pair of tights in the winter and a pair of riding boots!
I love this plaid blazer by L.A.M.B., shown below worn with a plaid skirt - I call this plaid overload! If you want to keep it simple, remember to do your plaid one at a time. Pair this blazer with a pair of black skinny jeans or be courageous and pair it with bright red trousers!
L.A.M.B. Plaid Blazer available at ShopBop
If you're feeling like wearing plaid in full force, opt for a fun number like the Etoille Isabel Marant plaid dress below with a pair of black opaque tights and a cropped black leather jacket!
Etoille Isabel Marant plaid dress available at Net-a-Porter
Another one of Fall's hottest trends is the reinvented poncho/cape and the BB Dakota plaid poncho below incorporates plaid too! It says preppy and proper and the hood is a great thing to have in the cooler months. Plus, if you're not feeling the plaid trend for your outfit, why not do it in your coat - you can always take it off and it's a great way to spice up a simple look.
BB Dakota Calhoun Plaid Hooded Poncho available at ShopBop
To me, plaid pants never go out of style. I must have the Rachel Zoe pair below!! Paired below with a cream-colored silk button down it's a great look for the office and beyond. Throw on a Hermes silk scarf and a forest green blazer and you're set for a day of English countryside and horsebackriding (or Middleburg, VA) or afternoon tea. Pair them with a fitted black turtleneck tucked out and you'll rock a classic-chic look suitable for a work, dinner out with friends or a day of Fall shopping in the city!
Rachel Zoe Glen Plaid Pant available at Intermix
Check out April's Autumn Favorites on MyDCStyle for a look at more of this Fall's hottest trends!
XOXO