'Pete and Repeat' Get Their Due, Long Overdue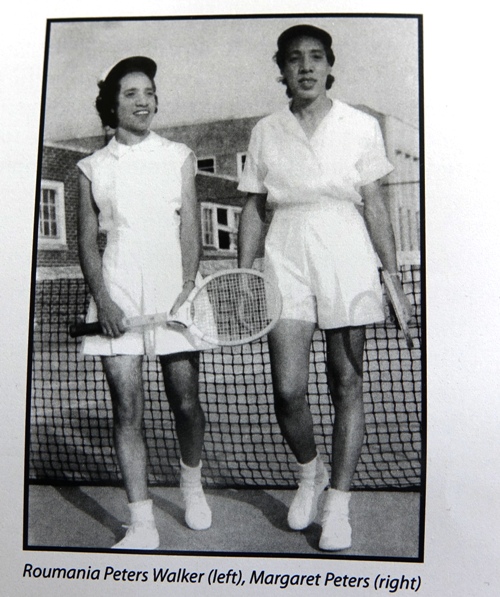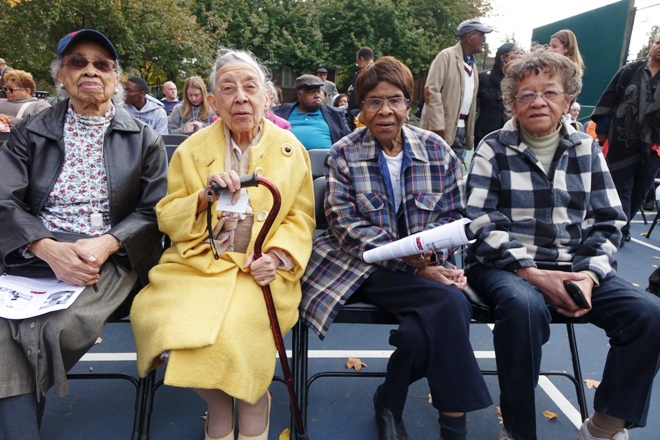 Saturday, October 24, 2015 marked the official dedication of Rose Park Tennis Courts to Margaret and Roumania Peters Walker. Affectionately called 'Pete and Repeat,' these Georgetown sisters and trailblazing tennis stars rose to fame playing on the (then clay) courts of Rose Park in the late 1930's.
In an era when blacks were segregated from whites in both national and international competitions, the sisters played in the American Tennis Association (ATA) national championships in Wilberforce University in Ohio. The ATA had been founded in 1916 by a group of African American businessmen, college professors, and physicians who wanted to promote the game of tennis and provide a forum for competition at the national level. The ATA provided the finest competition for blacks in the United States at the time.
Speaker after speaker touched on a personal connection to the Peters family and how their talent, sprit and commitment to the neighborhood inspired them.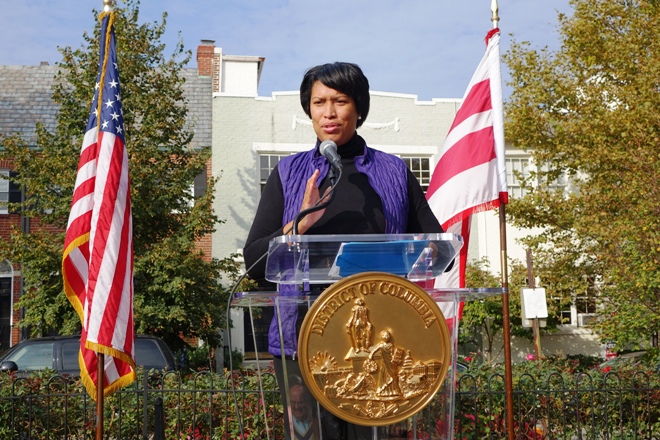 Master of Ceremonies David Dunning, President of Friends of Rose Park thanked the community, distinguished speakers and guests including DC Mayor Muriel Bowser, singling out Topher Matthews for writing about the Peters sisters over a year ago, and David Abrams who has served on the Friends of Rose Park board for 15 years.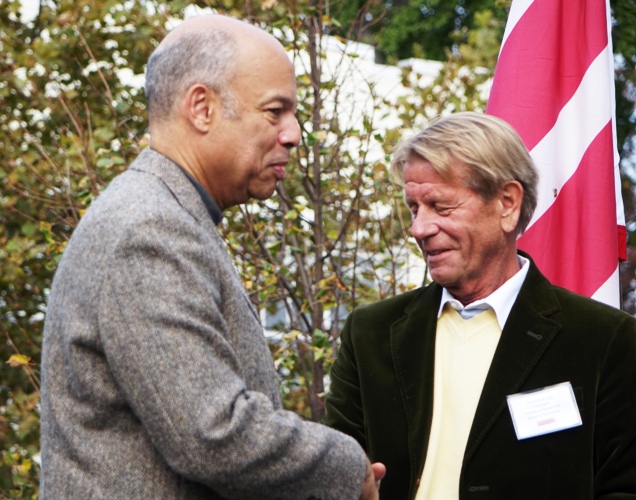 Reverend Adam Y. Park of Epiphany Catholic Church gave the invocation, mentioning that his church was where the Peters family worshipped then and now.
Fannie Walker Weeks and James Walker, Roumania's children shared how their mom and aunt Margaret "beat the boys" and how they "would be humbled by this honor." James told proudly the story of how his mother once played on the courts with actor Gene Kelly.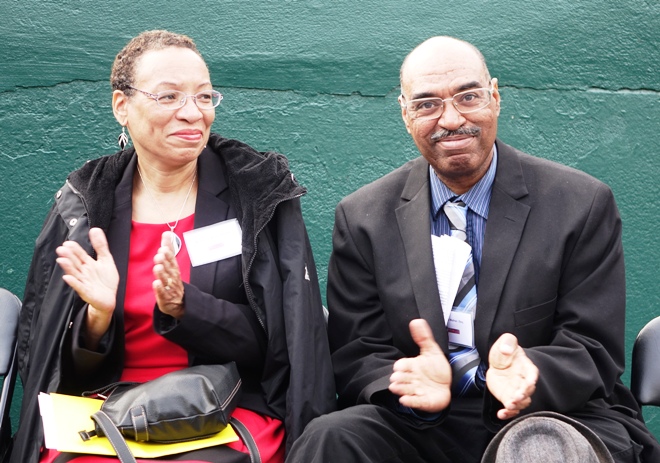 Mayor Bowser talked about how her mother (sitting in the audience next to Vincent Orange) grew up in Georgetown, describing the spirit and talent of the Peters sisters as "a shining example of what young people can do."
Councilmember Jack Evans, who helped spearhead the effort to rename the tennis courts, passed on his regrets that he could not attend because his triplets were starting college.
ANC Commissioner Monica Roache, fifth generation Georgetowner who played tennis at Rose Park, and was instrumental in the naming efforts said, "This is a significant place for African-Americans ... a place that transcends senseless boundaries."
Keynote speaker Jeh Johnson, Homeland Security Secretary thanked the Mayor of East Village David Dunning, explaining how much he and his wife Susan love Rose Park. About his terrier, Johnson added, "Andy has done more to fetilize the rose bushes ... he knows how to give back."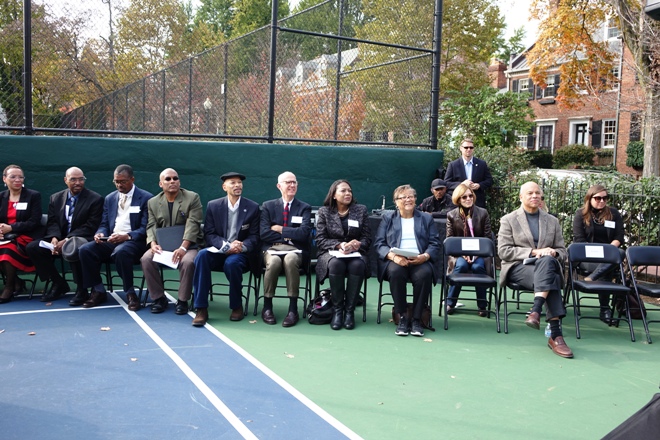 John Stokes, Deputy Director of DC Department of Parks and Recreation noted that "this was a first, the first officially named tennis court. Before there were the Venus Sisters, there were the Peters Sisters. Bravo Friends of Rose Park."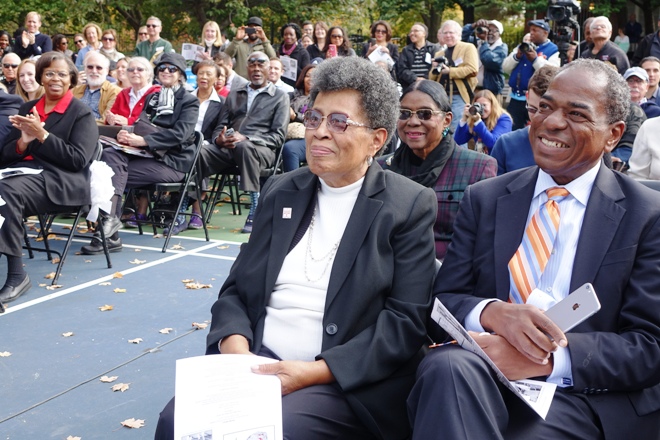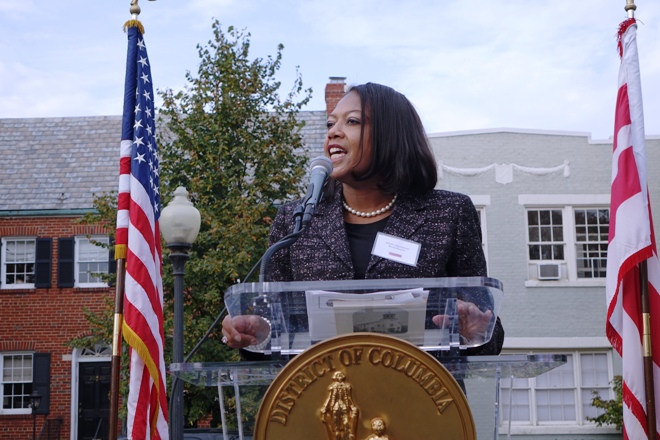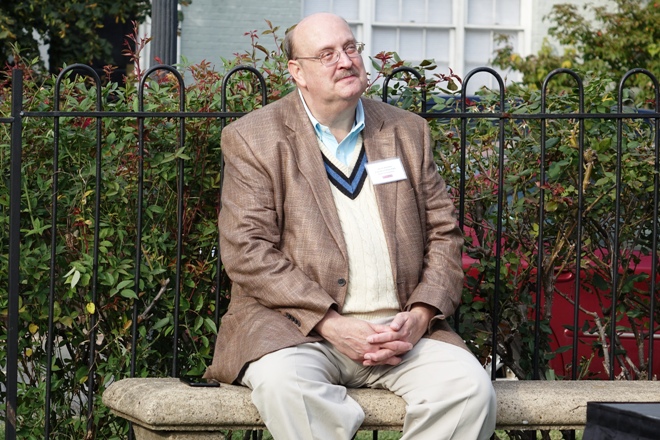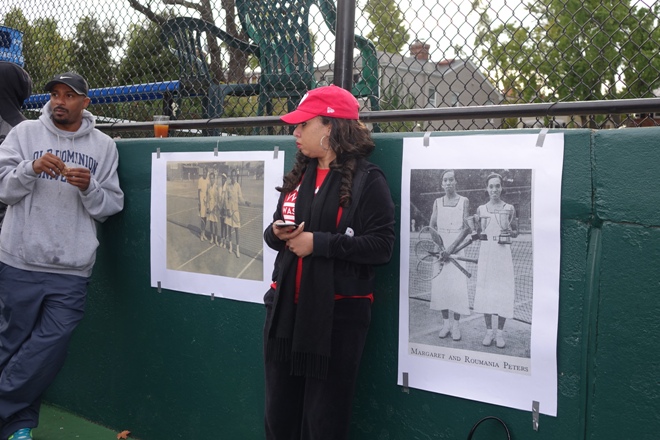 The plaque reads:
MARGARET PETERS and ROUMANIA PETERS WALKER
ROSE PARK TENNIS COURTS
The families of the Peters Sisters, Friends of Rose Park, DC Department of Parks & Recreation, and the City of Washington, DC are proud to name the Rose Park Tennis Courts after the Peters Sisters who grew up in this neighborhood on O Street, NW. The sisters wowed the crowds wherever they went, playing their doubles tennis from the 1940s through the 1950s. Both were recruited to play tennis at Tuskegee University and continued their tennis careers on the American Tennis Association cicruit, winning 14 doubles championships over the years. Roumania Peters Walker defeated Altea Gibson in 1946 at Wilberforce, Ohio, towin her second ATA women's singles championship. Our community is proud to honor and remember the legacy of these pioneering, African-American women from our neighborhoods.
This plaque was generously donated by the Honorable Jeh Johnson and Dr. Susan DiMarco, along with their children, Jeh and Natalie.