'Performance Parking' May Grow in D.C.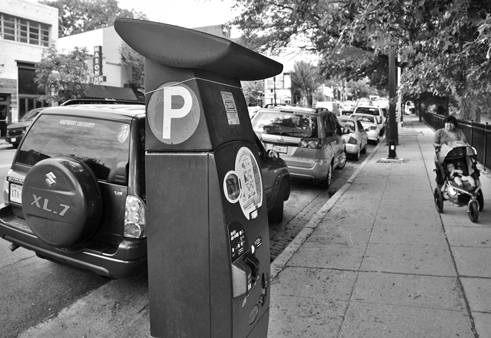 By Brady HoltCurrent Staff Writer
Eleven D.C. neighborhoods may see changes to their parking meter rates within the next nine months as the D.C. Department of Transportation expands its "performance parking" program, which charges varying costs during different parts of the day.
For several years, the city has used performance parking strategies in Columbia Heights in Ward 1 and near Nationals Park in Ward 6. The program is soon set to expand to H Street NE, and, pending support from D.C. Council members and the community, it could expand next year to 10 more neighborhoods, including Dupont Circle, Georgetown and Van Ness.
In an interview, the Transportation Department's Damon Harvey declined to share the full list of the 10 neighborhoods, which he said is currently being vetted by D.C. Council staff and will likely be publicly available later this month. Officials had identified Dupont, Georgetown and Van Ness as areas under consideration at last month's council hearing on parking issues; Harvey confirmed that they are among those targeted for performance parking by next spring.
By charging more for on-street parking during a particular neighborhood's peak demand times, the city can encourage faster turnover for desirable parking spaces and incentivize people to find other ways to get to that neighborhood than driving, said Harvey. The rates and times depend on a particular neighborhood's "special traffic generator" — for instance, an entertainment district that attracts late-night crowds, or a university that's busiest during the day.
In addition to raising rates, the agency can charge more per hour the longer a car stays in a particular spot. "We don't want that curbside taken up by a single vehicle for an extended period of time," said Harvey. "The price induces turnover."
Different rates and methods would be used in different neighborhoods, but Harvey said it was too early to talk about the agency's specific plans anywhere but H Street NE, which is nearing implementation. There, the agency will begin with 75-cent hourly rates before 6:30 p.m. and $2 rates after 6:30 p.m., and later evaluate whether it can make the rates more flexible.
Separately, the agency is also considering changes to the program that restricts parking in front of embassies to diplomatic vehicles during the day, officials said at the June 27 hearing. This review is still in its most preliminary stage, officials said, but the department will consider ways to possibly reduce the number of restricted parking spaces and to charge foreign governments to reserve parts of the street.
The city will work with the U.S. State Department to determine what parking changes might be appropriate, but the agency is "still assessing the entire concept" of making the changes, said spokesperson Monica Hernandez.
The plans to expand performance parking are further along, though officials emphasized that nothing has been finalized. The agency will hold community meetings in the coming months, and input from council members' ongoing review could also impact the plans.
The agency selected neighborhoods that had "special traffic generators" that presently overload parking capacity, Harvey said. The new parking rates will target major corridors and immediately adjacent side streets to discourage drivers from seeking a cheaper spot in residential areas.
But by and large, Harvey said there have been few complaints about performance parking in Columbia Heights or near the ballpark; it's worked as intended to boost availability for people who really want to park, while encouraging others to find another way to get to the neighborhood if possible.
"They're less likely to park on the curbside on those hours [of higher meter rates], but we still provide them with the flexibility to do so," said Harvey.
The H Street NE performance parking was scheduled to go into place this spring but was delayed because of construction of the streetcar line there, Harvey said. Other construction could also delay other planned implementation beyond the projected nine-month timeframe, he said.
This article appears in the July 11 issue of The Georgetown Current newspaper.