A Perfect Garden Set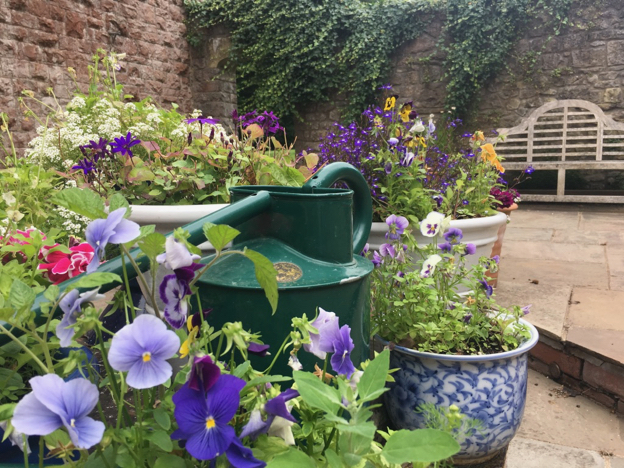 It's not often you get an invitation to help paint a set for an amateur theatrical production. It's even less so when the set that needs painting is in Wales, so when I a friend asked me to lend a hand, I readily agreed.
The drive from London through the beautiful midsummer countryside took us past Stonehenge and endless fields of gentle golds and greens punctuated with dark green hedge rows and dotted, occasionally, with sheep or cattle. A typical English summer, the skies varied from partly cloudy to dark and somewhat threatening with an intermittent squall. All to be expected.
What I did not expect was that the set we were working on was temporarily warehoused in the set designer's newly-built gorgeous stone garage across from a similarly gorgeous stone Victorian house, situated in a heart-shaped nine-acre garden. To be fair, I had been promised garden, badger hide, and stunning accommodation but I was still surprised. It completely exceeded expectation.
It was impossible not to fall in love with the place and its welcoming creative owners, Mr. and Mrs. O. To begin with, there was a walled courtyard the size of a large Georgetown garden. Paved in the local gray stone (so no mowing or maintenance issues), roses and clematis spilled over top of the wall suggesting lush plantings beyond, and pots of herbs, perennials, and annuals adorned its interior where a table and chairs promised a quiet meal. A water rill ran through it, waiting (until the next day, as it happened) for sun to activate its solar-powered fountain.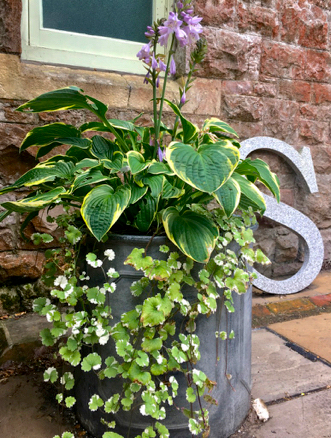 As you crossed the courtyard from the car park to the archway leading to the garden you knew in what direction you were heading thanks to the graceful stone letters, "S" and "N", leaning theatrically at either end of the space. The letters are left over from a project which the owner's company had completed for a client. Lacecap hydrangeas brightened the stone walls through the archway and clipped into an old beech hedge across the lawn surrounded by a diversity of shrubs and trees another archway beckoned. Judging by their size, some of the surrounding trees could easily date back to the 1870's when the house was built.
A quick peek through the hedge at the veg and perennial gardens where verbenas and daisies were in full glorious bloom, and then to work, enchanted and armed with paint brushes and gallon cans of paint. I didn't want a lot of drama about my slacking off -- I was there to work, after all, not to dawdle over lilies and roses. We spent a productive and amusing afternoon working on the set (discussions of trap doors and set changes all being well above my paygrade) before a thorough garden tour was offered and readily accepted.
It began at the owner-designed pond. Mr. O delivered an enthusiastic and colorful soliloquy about the property's history as Mrs. O fed the resident goldfish but I was distracted by the fantastic diversity of textures, forms, and colors surrounding us.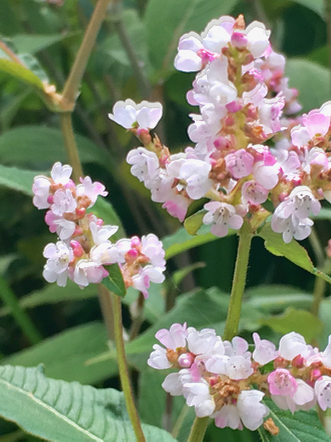 A healthy and robust planting of light pink knotweed, (Persicaria campenulata) had caught my eye first. It is a Himalayan native that is semi-evergreen and grows waist-high in either full sun or partial shade in lovely great clumps. Thought it doesn't tolerate drought, it's a tough plant that looks lovely in winter and blooms for weeks in mid- to late summer with sprays of tiny whitish flowers and pink orbital buds. I've never seen this perennial before and it was love-at-first-sight.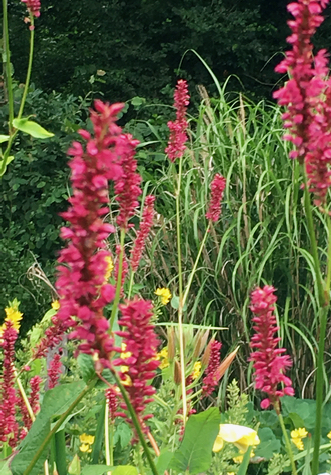 It's cousin, mountain fleece (Persicaria amplexicaulis), an old favorite,was blooming prolifically on the opposite bank. I have always adored its tiny,dark cerise flowers arrayed at the tip of a long stem – they look like tiny bright lipstick colored bottle brushes. Egg-yolk colored evening primrose (Oenethera) and the quickly spreading lemony circle flower (Lysmachia coronaria) grew through the mountain fleece in a cheering color combination that defiantly proclaimed summer, in spite of steel-gray skies overhead.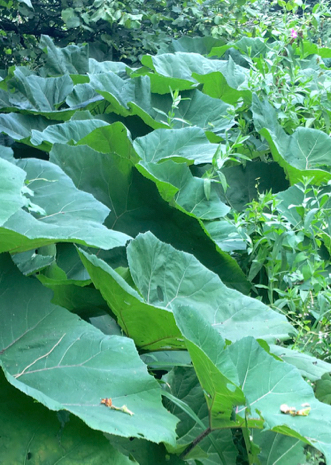 I loved how this collection of wispy delicate perennials contrasted with the enormous leaves of adjacent butterbur (Petasites). Though I have seen it growing in a Georgetown garden, I always associate butterbur, a European native, with waterways and ponds. This planting, about 100 feet long and 3 feet high, had been installed to prevent erosion, but looked perfectly natural. It's leaves usually seem oversized, but these were dramatically dwarfed by the larger-than-life leaves of a lofty gunnera that punctuated the end of the pond next to a little deck. I have only ever seen these growing in arboreta, so it was exciting to see a stand so well-placed in an actual garden, its leaves floating 10 feet overhead and shading the path that ran below the pond. Walking beneath them and looking up felt like I was on set in a production of "A Midsummer Night's Dream" and I half expected fairies to peer out from beyond the gunnera's thick, thorny stalks.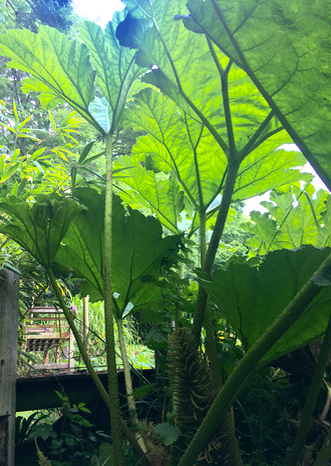 We continued our walk through the grounds, enjoying views of the hills beyond and of meadows where sheep were peacefully grazing. We sat briefly in the badger hide, a beautifully crafted hut perched on what were once the legs of a formidable snooker table, walked through an orchard with aged plums, apples, and cherries, through woodland and meadow, and finally ambled up a drive that was once frequented by horse drawn carriages that inevitably yielded, in time, to new-fangled automobiles.
As we returned to the house for drinks, we paid homage to an enormous conifer with a massive girth that reminded me of trees in the old-growth forests in Western Washington where I grew up. The owners weren't certain of its species, but after sending a photo of its foliage and cones to the Royal Horticultural Society we were told by RHS senior botanist Neil Lancaster that it may well be a "Thuja plicata, a large-growing, evergreen species native to western North America. It is an important timber tree, being the source of the "western red cedar", much used where weatherproof timber is required." The western red cedar was introduced to the UK in the 1850's as a timber tree and can grow up to 5 meters in diameter. The oldest specimens are estimated to be hundreds of years old and it seemed very likely that this one was well over 100 years of age.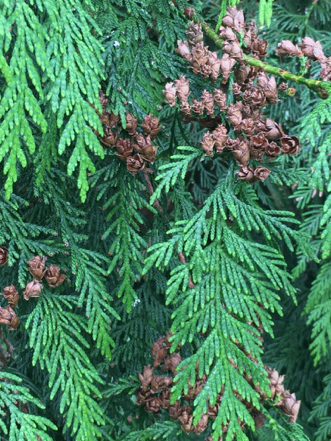 As I walked through this gorgeous garden, I felt like I was walking from one beautifully designed set to the next. Although Mr. and Mrs. O are not garden designers, they definitely have a designers' eye and green thumbs, and their garden shows it. In all, the garden and its setting – and Mr. and Mrs. O's generous hospitality - were perfect: A stunning combination of gracious grounds belonging to an age where garden labor was still affordable, and modern comforts and plantings, all nestled into a landscape that has been cultivated for over a thousand years. A perfect place to be working on a theatre set with friends. It was hard to leave.
Did I mention the show, "Dick Barton, Special Agent" is on this week? It's being presented by Red Herring Theatre in association with Span Arts at Manorbier Castle near Tenby, Wales. If you are in the area, you won't want to miss it. Bring a blanket and a chair!
Check out https://span-arts.ticketsolve.com/ for tickets...