A Perfect Day in Georgetown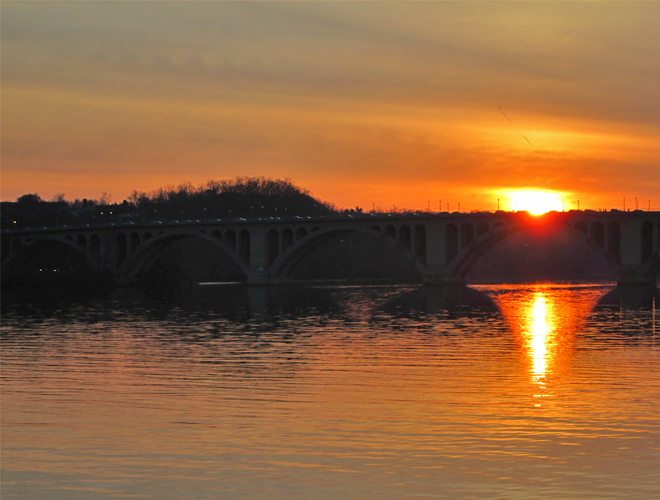 I had the perfect day in Georgetown yesterday, the sun was shining and there was a slight nip of fall in the air. It's the first time since I opened my media company four years ago that I took the time to play hooky.
I had worked hard over the weekend on a special event one of my clients was hosting so I felt I deserved a break. That's what owning your own business is all about… being the captain of your own ship.
The day started around 7:30am finishing the daily tasks like opening email, writing thank you cards and scheduling appointments for the rest of the week, then off to a planned yoga class at the new Georgetown Yoga studios above ShopHouse on M Street across from the Four Seasons.
The new location is just perfect for me being just five doors down from the office. Except for the occasional emergency vehicle that disrupts the calm and peacefulness of the yoga class, it's the perfect setting. I can see the clock face and the frieze of a horse head on the wall of the hotel across the street when the light beams just right on the hardwood floor. The walls are exposed brick with trim, clean white and bright. Marlyn, our teacher is a beautiful and graceful reminder of the all the benefits of doing yoga. She makes it seems so flowing and easy, while my classmates and I try to follow her good example. Georgetown Yoga is a perfect addition to M Street.
I also discovered another new favorite spot, Georgetown Salon and Spa. I got real lucky as a walk-in to get Onder, one of the owners, to cut and style my hair. I have short hair as it is, and I wondered how he was going to make it look sassy yet sophisticated. He did not disappoint. It was one of the best cuts I've ever had. The salon has large picture window that reflected back in the mirror as he was cutting my hair and I commented on how beautiful and well maintained Georgetown is with the hanging pots overflowing with pink petunias and the lush seagrasses.
So, feeling rested and satisfied with my morning, I ventured out to go shopping to buy a new pair of jeans at Lucky Brand … something I hardly ever stop down to do. Bernice was my inspiration. She knows her inventory, body types, fabric choices and how to sell jeans. What a funny, bright and accomplished representative of the company. I'd hire her in minute to sell anything. She made great suggestions and was fun to do business with. I got a great pair of jeans and a cute top.
My day ended with a glass of wine and a magnificent sunset at Tony and Joe's fabulous outdoor bar, meeting a friend at one of my favorite spots. Yes, it was a perfect day in Georgetown.