Percy Park Dedication at Georgetown Waterfront Park May 23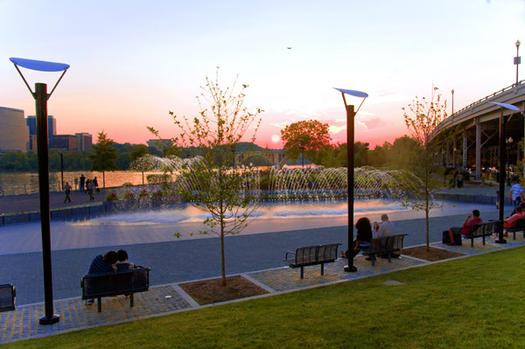 On Thursday, May 23, the District of Columbia and Friends of Georgetown Waterfront Park will honor the late Senator Charles H. Percy by dedicating the "Senator Charles H. Percy Plaza" at the gateway to the park, the intersection of Wisconsin Avenue and K Street, N.W.
Senator Percy was committed to seeing a National Park constructed on the banks of the Potomac River in Georgetown, and worked for many years to make this dream a reality. The Dedication Ceremony will begin at 4:00 pm and is open to the public.
Ward 2 Councilmember Jack Evans will participate in the Percy Plaza Dedication Ceremony, and Senator Percy's daughter, Sharon Percy Rockefeller, will offer remarks.
The Georgetown Waterfront Park, designed by world-renowned landscape architects Wallace Roberts & Todd, was completed in September 2011, with the support of the National Park Service, the D.C. Government, and private donors, including Senator Percy and his family.
The stretch of the Potomac River along the shores of the park has been a prime rowing venue for more than a century, with thousands of high school, college, and masters rowers participating in spring and fall regattas every year. Senator Percy was an avid supporter of high school rowing, and could often be seen cheering high school crews at the regatta finish line. The high school rowing competition was named in Senator Percy's honor, and he often enjoyed presenting the Percy Cup to the winning crew.
Bob vom Eigen, President of Friends of Georgetown Waterfront Park, said "The Georgetown Waterfront Park would not be here today without the commitment and support of Senator Percy and his family. We welcome the opportunity to honor Senator Percy for helping create this wonderful place for enjoying the river by designating the gateway to the park "Senator Charles H. Percy Plaza."