People Who've Been There, Done That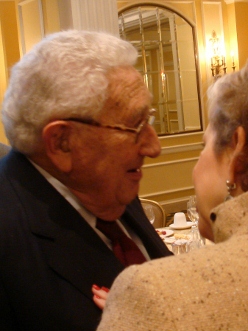 A cerebral collection of think-tankers, business leaders and diplomats cheered former Sen. Sam Nunn as he unleashed his wit on the political primary shenanigans at a pre-Alfalfa luncheon at the Willard Hotel on Saturday.
"I believe most American voters are frustrated with the low level of political discourse," said Nunn. "The Republican campaign has been marked by allegations of marital troubles ever since Herman Cain learned that harass is not two words."
And under the current administration's philosophy: "It's no longer a sin to be rich – it's a miracle!"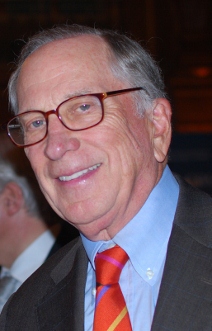 Nunn, a Georgia Democrat, is chairman of the board of trustees for the D.C.-based Center for Strategic and International Studies, which sponsored the lunch attended by more than 150 mostly famous faces -- many of whom had a hand in shaping history.
Thayer Lodging Group founder and chairman Frederic Malek, an advisor to several Republican presidents, told The Georgetown Dish: "I am supporting Romney, who else?"
Nunn said there are some rules that Alfalfa club members abide by: (1) you can't take your politics seriously; (2) you've got to laugh even at the corny jokes, especially mine; (3) and, as former Supreme Court Justice Sandra Day O'Connor often advises us: "Alfalfans don't have to drink to have a good time, but why take a chance."
Then in a tribute to the Mondavi wines served at the lunch, Nunn said it brings to mind a woman who was drinking a glass of wine while sitting on the patio with her husband. She says: "I love you so much, I don't know how I could ever live without you." Her surprised husband asks, "Is that you, or the wine talking?" She replies: "It's me--talking to the wine."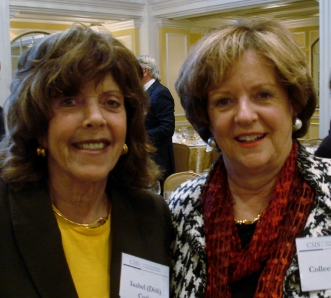 On a higher note, former Secretary of State Henry Kissinger, former Defense Secretary William Cohen, and chairman and CEO of C.V. Starr and Co. Maurice Greenberg spoke on Asia's economic relationship with the United States. Some of their remarks focused on Kissinger's 2011 book, On China.
On the guest list were arts philanthropist Adrienne Arsht, former Labor Secretary Elaine Chao, Rep. John Dingell, Motion Picture Association Chairman Christopher Dodd, Sen. Dianne Feinstein, former U.S. Senate Majority Leader William Frist, former chairman of the Joint Chiefs of Staff Peter Pace, President of the Woodrow Wilson International Center for Scholars Jane Harman, U.S. Senator Kay Bailey Hutchison, former New Hampshire Gov. John Sununu, former Secretary of State George Shultz who is now at Stanford University, former U.S. Ambassador to Belgium Tom Korologos, former U.S. Senator Chuck Robb, President of the University of Miami Donna Shalala, former U.S. Senator John Warner, and a host of foreign diplomats including Ambassador Han Duk-soo, of the Republic of Korea, AmbassadorYousef Al Otaiba, of the United Arab Emirates, Japan Ambassador Ichiro Fujisaki, and Ambassador Chan Heng Chee of Singapore.