Culture
|
November 15, 2022
|
People, Places, Things
A clear-eyed look at addiction is English playwright Duncan Macmillan's latest work at Studio Theatre.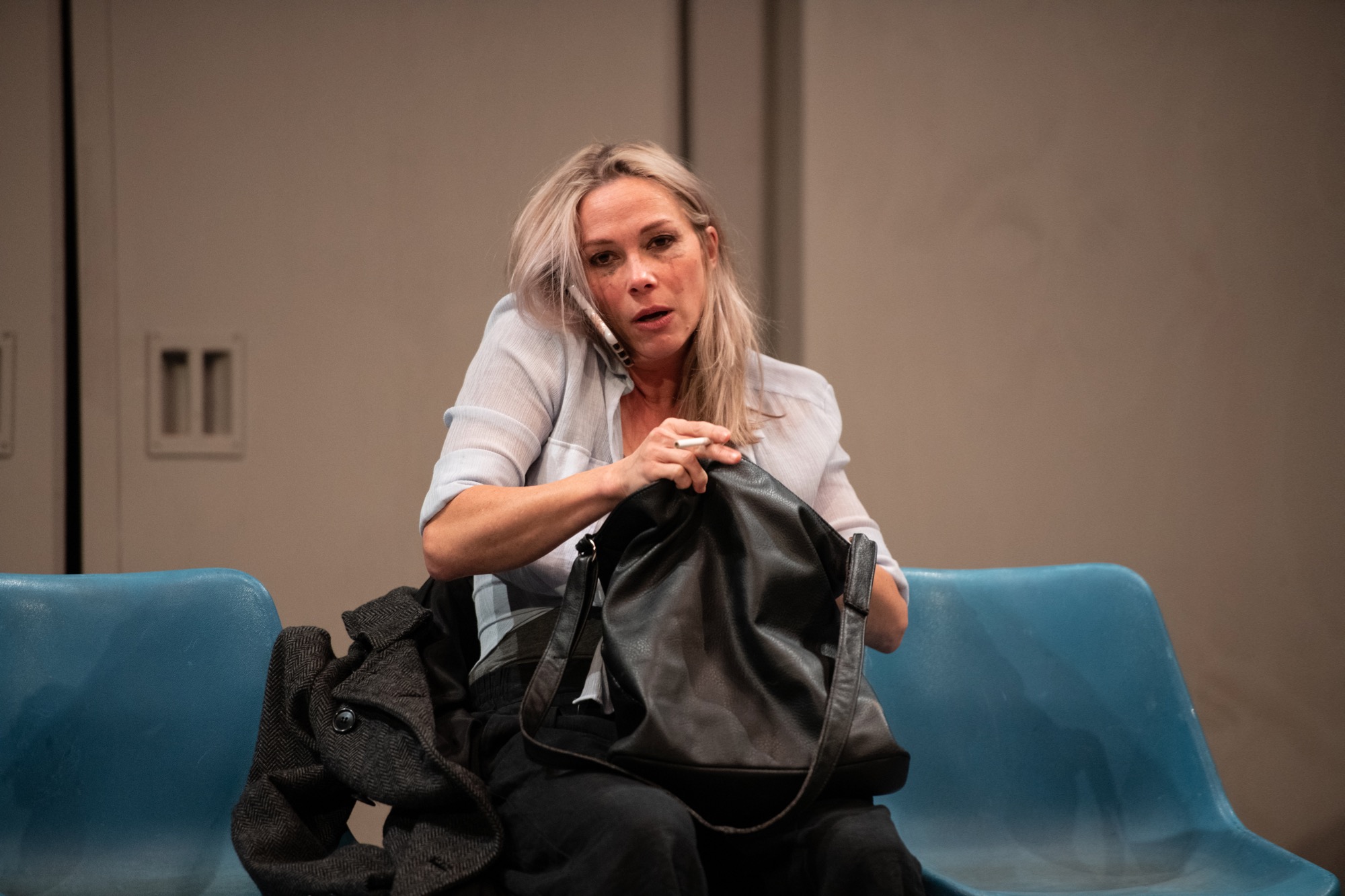 People, Places & Things is about Emma, an actress. She is living with an addiction, and it's trying to kill her. In rehab, but not ready for recovery, Emma just wants to escape—through drugs, through performing, through anything that lets her make her own reality. It evokes the vivid and disorienting world of intoxication and lies as Emma decides whether to fight for her recovery and the people, places, and things she'll face there. We see Emma as she interacts with a group in a rehab program. 
Why do people develop addictions and what does it take from you to try to recover asks playwright Duncan Macmillan and then answers the question by saying "If I had the answers, I wouldn't have written a play about it." Dramaturg Adrien-Alice Hansel says "Living in ambiguity, Macmillan's plays are tough and sometimes brutal, but they also carry a deep sense that we are better served making mistakes together, being honest about our failures, and building the strength to try again." 
He writes about a mother and daughter, and the long process of recovery. He manages to create a theatrical experience in People, Places & Things that has the complicated and complex perspective of its lead character and the audience is asked to believe the escapism of addiction and its pain.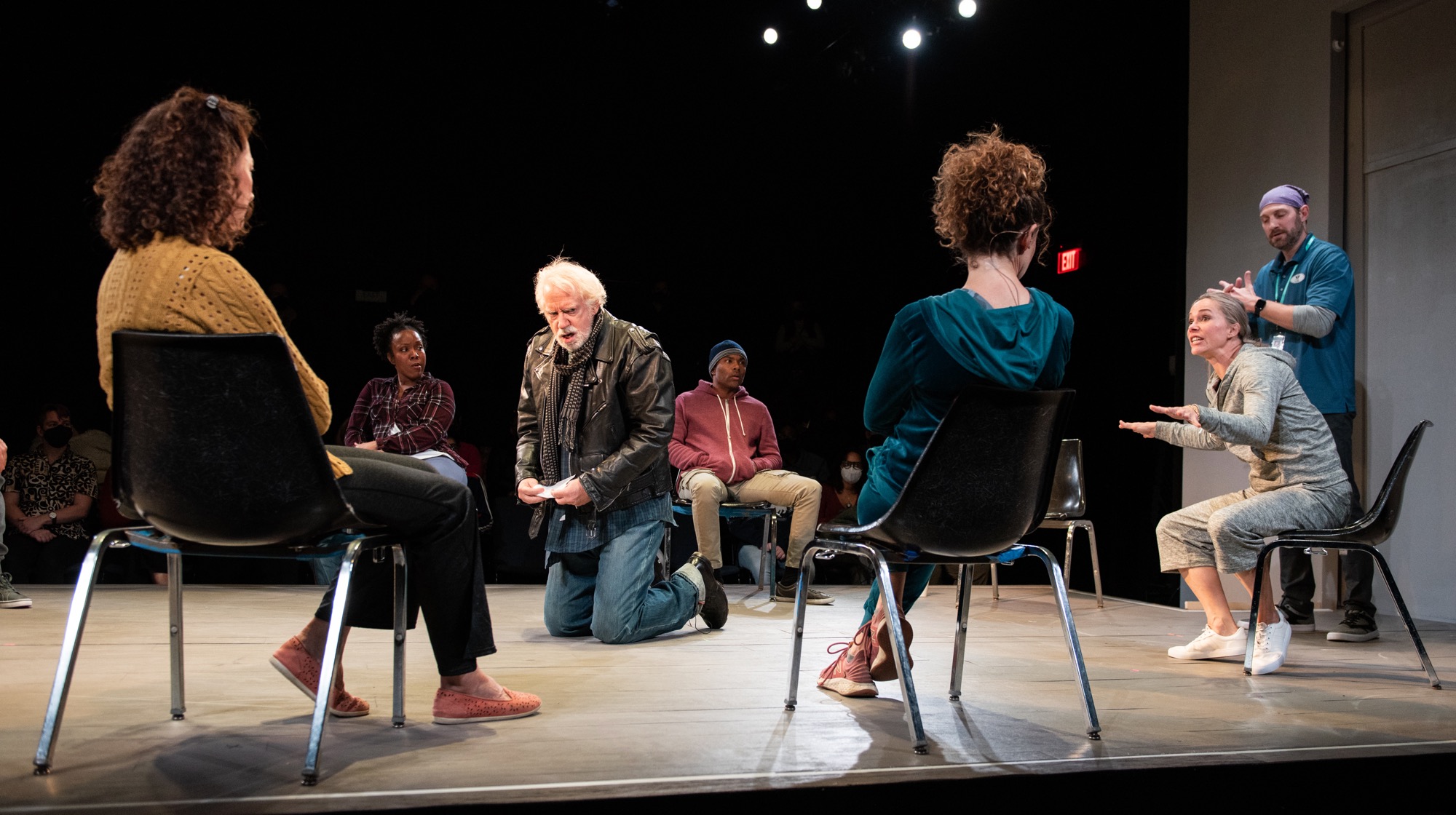 The play is directed by the brilliant David Muse.  A couple of thoughts I had after seeing the play is how anyone with an addiction, or someone who has been in rehab, would react to this play? While I have had friends who have been in both situations, I have never been in either. Yet I understood it and found it incredibly intense. I kept hoping Emma would conquer her demons and recapture her life. 
The production is in the Studio's new Shargai Theater and its versatility allowed Muse to stage the production in the center of the theater with an audience on both sides of the stage. Muse brought together eleven really talented actors. The standout who gives a totally riveting performance is Kristen Bush, as Emma. She is there in every scene of the play. Then there is Jahi Kearse as Mark, who is a wonderful complement to Emma in his very strong performance. Jeanne Paulsen as the Doctor and mother, is also a standout. David Manis is great as Paul, a member of the rehab group, and the father. 
The creative team has also done a great job and includes Debra Booth (Set Design) who has created a two-level set. One is the rehab center and then the ceiling is lowered to reveal Emma's childhood bedroom. Helen Q. Huang (Costume Design) and Lindsay Jones (original music and sound design) have both added to the impact of the play.  
The person I saw the play with had one comment. He felt the first act was a little long and that the group individual stories could have been shortened, but he thought overall the play was great. I actually was fine with it as it is and would urge anyone who loves the theater to go see People, Places & Things. It is a play on a difficult topic delivered with a grand touch of humor, which makes it easier to see. Get your tickets today. It will be at Studio until December 11, 2022.