A Penny For Your Thoughts...or Shoes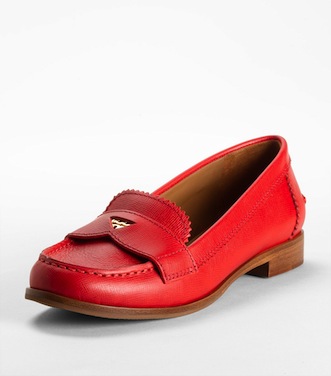 Are your pennies ready?! This Fall, penny loafers are a must-have for your feet!
Well, penny loafers are moving back on to the scene and I'm thrilled! They're classic, comfortable, a little dressier than a regular ballet flat and add a preppy twist and probably bring back childhood memories to some of us, heh! The red Tory Burch penny loafer above would add a nice pop of color to a pair of blue denim jeans and a white button-up for a preppy look while you're headed out for a bit of shopping on U Street or for a day at the museums.
Boston Penny Loafers by ONE available at ShopBop.
I love the loafers above by ONE and the neutral color means it can go with just about any color combo. Still wondering what to wear your penny loafers with if you want to do a non-preppy look? Mix them with trendier pieces like a bold color pair of cropped jeans and an oversized sweater.
The Stiletto Jean by Vince available at ShopBop.
Vince Boateck Sweater available at Revolve Clothing
However you rock yours, don't forget to put your two cents in! Or in this case, one ;-)
XOXO
~MyDCStyle