Peeling the Lettuce Leaves: The Power of the Georgetown Community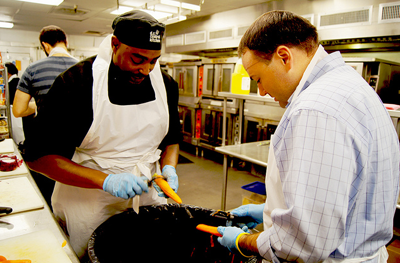 He stands over the kitchen surface, the sheen of the table's reflective metal mirroring the browned lettuce he grips in his hand. He adjusts his black cap slightly, his hands grazing the stitching of the words "D.C. Central Kitchen." And so he begins on his day's work, peeling the browned lettuce leaves one by one, revealing the greens of the healthy stalks hidden below.
Charities across Washington are too peeling their leaves, pulling back the layers of help in a giving of a part of themselves to build a network of support, a cover of care and a trace of hope.
"A great non- profit tries to reveal the power of community to solve the problem," said Robert Egger, founder and president of D.C. Central Kitchen, the nation's first community kitchen. "Everyone comes [to the D.C. Central Kitchen] with different motivations and the kitchen here is a giant canvas in which we can all paint our portrait. This is the power of community."
D.C. Central Kitchen prepares 4,500 to 5,000 meals daily using donated food from restaurants; the meals are delivered to those in need throughout the D.C. metro area. The kitchen additionally recruits roughly 25 "students" into a 14- week life- skills program, gearing students with a strong knowledge of kitchen etiquette with hopes of aiding graduates land a career in the culinary industry. In it's 23 years of service, D.C. Central Kitchen has helped over 800 men and women land full time employment.
The care for giving continues with charities across the Washington area.
Once Upon a Prom, started in Fall 2006, collects dresses to distribute among girls who cannot afford to purchase one. The charity hosts a dress and accessory giveaway each April, giving girls the opportunity to step into the prom shoes of a night that had once seemed far from reach.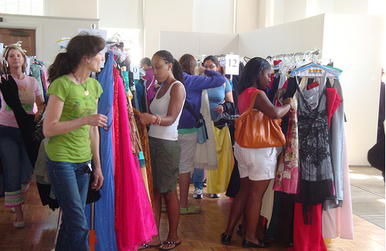 "If I can change one person's life—whether giving them the confidence or making them feel special for a day—it makes it all worth it for me," said Ashley Taylor, co- founder and President of Once Upon a Prom. "I really can't tell you how great it feels when I get an email from a girl saying 'this would have never happened without your help. Thank you so much for making me feel like a princess'."
BabyLove D.C., the "brain child" of Ali Wentworth, strives to aid those who are unable to afford items for their babies. "There are so many people in need and so many people with so much that it is such a simple, simple thing to get [baby supplies] from people with them to the people without," said Annie Lou Berman, Georgetown mom and organizer for BabyLove D.C. BabyLove D.C. hosts monthly drives and giveaways for baby supplies across the Washington area.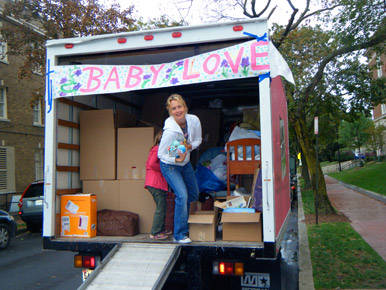 The willingness of Washington's residents—for the able to arm those to become capable—has fueled these D.C. charities to continue their work, each step to better the community.
"It's really great to see the community outreach—always getting emails to ask 'how can I volunteer?'" Taylor said.
Within the D.C. area, the Georgetown community has been strongly receptive, with donations and support from Georgetown businesses, including Sprinkles, The Magic Wardrobe, Ella Rue and Urban Chic, in addition to the overwhelming support from residents and community members, including Tudor Place and the Grace Episcopal Church.
It's this community outreach that started the Georgetown Ministry Center, a center that works to combat the struggles of Georgetown's homeless by providing a welcoming center for those without a place to call home. Throughout its almost 25 years of service, GMC helps roughly 40 to 70 individuals a day, noting the success of its program lies in the hands of the Georgetown community.
"Georgetown chose to do this," GMC Director Gunther Stern said. "Georgetown is very receptive, very supportive… Georgetown was choosing to do something about the homeless that were here."
Georgetown businesses are also stepping up, pulling together their own resources to give back to the community. Georgetown's Water Street Gym hosted a month- long coat drive, collecting unwanted jackets to donate to the GMC. Recoup, a Georgetown- based online marketplace, allows users to purchase items at discounted prices while donating part of their payment to a cared cause, including the Citizens Association of Georgetown, the Dumbarton House and the GMC.
And so with the support of the community and the passion of those to give, Washington charities are pulling their lettuce leaves, revealing the power of a helping hand in arming those in need with the ability to find their own greens hidden below.
"It just takes one person to make the difference," Taylor said. "I think you really have to believe in yourself and know that if you have an idea—and it may be a crazy idea—but if you believe in it, then you've got to trust your instinct."
"If it helps one person, great," she said. "If it helps a 100 people, a 1000 people, even better."
How you can get involved:
D.C. Central Kitchen
Volunteers can choose between a 9 am- 12 pm shift or 5 pm- 8 pm shift.
Looking to donate food? Email cparham@dccentralkitchen.org to find out how you can help! With it's refrigerated vehicles, drivers who are certified food handlers and their own containers, D.C. Central Kitchen will come to you at a time most convenient for you to pick the food up. In return, D.C. Central Kitchen will provide a receipt for the food given and a window sticker so customers know your restaurant donates its leftover food.
Once Upon a Prom
Individuals can either drop off or mail their dress donations to Ella Rue (3231 P St. NW). All dresses must be dry-cleaned and dropped off on hangers.
Once Upon a Prom is presently looking for a space to host its April 2012 dress drive. Contact onceuponaprom@gmail.com if you have ideas, inquiries or comments.
BabyLove D.C.
Drives are hosted once a month. Check the website for upcoming BabyLove D.C. drives. Contact info@babylovedc.org to find out how you can help volunteer; volunteer options range from donating supplies and hosting a mini- drive to repairing clothing and preparing gift baskets.
Water Street Gym Coat Drive
Looking to donate your coat? Pass it along to someone in need by donating your unwanted coat to Water Street Gym (3255 K Street NW). Interested in organizing your own drive? Email trish@waterstreetgym.com for more information.
Georgetown Ministry Center
Interested in leading programming, collecting sandwiches, cooking a meal or staying in the center overnight? Click here to discover how you can get involved.