Peel Your Own Crawfish!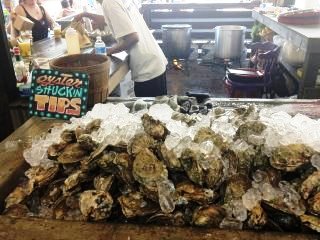 One of the things I have learned about New Orleans is that there is always a festival, and if not an official one, it's always the season to celebrate something. Right about now, after Mardi Gras, and before Jazz Fest, it is crawfish season (crawfish is best between March and June).
Believe it or not, Louisiana is responsible for 90% of the U.S. crawfish production, 70% of which is consumed in the state. While Louisiana's earliest commercial crawfish harvest on record dates from the 1880's, crawfish eating in the state goes back to early Cajun settlers. And while for a while crawfish were considered "unclean shellfish," the lowly dirty siblings of the more precious and delicious crabs and lobsters, crawfish farming developed in the 1950's and the mudbug regained its popularity as both a delicacy and an emblem of Cajun culture.
While I have not yet had the pleasure of going to a crawfish boil in someone's backyard, I have fallen in love with J's Seafood Dock at the French Market. For the last few sunny Sundays I have spent in New Orleans, I have eaten oysters, crabs, and my fair share of crawfish at J's, sitting on a stool, people watching. J's Seafood Dock is family-owned: the mom is the boss, the son shucks oysters (a friend of theirs owns the oyster bed) and entertains the crowd, while the sister handles the register. The uncle, meanwhile, cooks the crawfish in the two massive pots which are constantly boiling. The crawfish are boiled in spicy water (I can still taste the nutmeg and clove), with a mixture of fresh vegetables including celery, garlic, lemon, and more. They are then consumed by the pound, no silverware needed. I am just learning how to peel those little guys myself … indeed, apparently there is a rule in Louisiana: "you peel your own crawfish." Two hours and three pounds of crawfish later, I am getting pretty good at it!