Pedestrian Deaths Spur Safety Push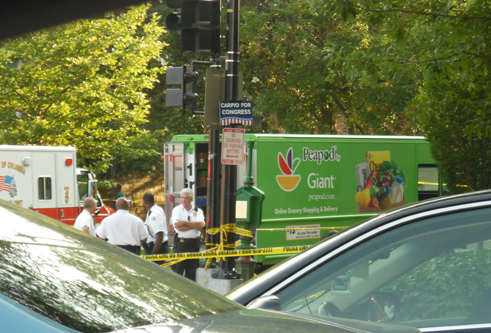 By Brady HoltCurrent Staff Writer
A pair of fatal pedestrian accidents in the Wisconsin Avenue corridor last week has prompted a call for safety improvements along the busy artery, and the D.C. Department of Transportation has pledged to investigate solutions.
On Wednesday, 31-year-old George Mina of Arlington was injured as he crossed Wisconsin at Veazey Street in Tenleytown, and he died of his injuries yesterday, according to friends and coworkers. The following day, 79-year-old Northwest resident Margaret "Peggy" Ruth Dickie was hit by a truck at 37th and Calvert streets in Glover Park and died at the scene.
"Safety is our top priority at DDOT, and we are always looking for ways to improve conditions for pedestrians, cyclists and drivers in the District," Transportation Department spokesperson Keith St. Clair wrote in an email yesterday. "DDOT joins in Mayor [Muriel] Bowser's commitment to Vision Zero, aimed at eliminating deaths on the city's transportation system by 2024."
The group All Walks DC will host a "Vision Zero Walk" tomorrow along Wisconsin, meeting at the corner of Veazey at 6:30 p.m. and walking to Calvert. Additionally, Ward 3 D.C. Council member Mary Cheh said yesterday that she's arranging a site visit to the accident scenes with representatives of the Transportation Department, Metropolitan Police Department, advisory neighborhood commissions and the community. Cheh said she'll be looking at issues that include signal timing and intersection configuration.
"I don't like to have situations where we're responding after there's been an accident," said Cheh, "but in this case that's where we are."
According to police spokesperson Aquita Brown, the Tenleytown accident occurred at 5:07 p.m. Wednesday, when a pedestrian was crossing Wisconsin from east to west in an unsignalized crosswalk. A northbound vehicle struck him, sending him to the hospital, Brown said. WUSA TV footage showed a Jaguar X-Type sedan with a damaged windshield stopped in the left lane just beyond the crosswalk.
The accident remains under investigation, according to Brown. She couldn't confirm the identities of either the driver or victim.
Friends and colleagues at MedStar Georgetown University Hospital told The Current that the victim, George Mina, was a pediatric phlebotomist working at the hospital's 4200 Wisconsin Ave. pediatric facility. He died in the hospital, said colleague Kirsten Hawkins. Brown had no information on his condition yesterday.
A page at youcaring.com, originally for Mina's medical expenses, will instead go toward his funeral costs, Hawkins said. It's available at tinyurl.com/mina-expenses.
The D.C. Department of Transportation has raised concerns about crosswalks without traffic signals that traverse wide busy roads, in some cases working to remove them. Officials say they can give pedestrians a false sense of security, because even though drivers are required to yield to a pedestrian in a crosswalk — as signs at Wisconsin and Veazey state — they often don't do so.
Although police didn't say what happened in Wednesday's accident, transportation officials have said that a common scenario is that a driver stops in the right lane, blocking a left lane driver's view of the pedestrian and vice versa — at which point the accident occurs in the left lane.
St. Clair said the Transportation Department is studying the Veazey intersection for a HAWK pedestrian-activated signal, similar to those in place on Connecticut Avenue in Cleveland Park and Chevy Chase. The study will be completed later this summer, he said, and the agency is also looking into other safety improvements at the intersection.
The Glover Park accident also represents a common safety hazard for pedestrians: right turns. Police spokesperson Paul Metcalf said a southbound Peapod delivery truck stopped at the light on 37th Street at Calvert Street at about 6:12 p.m. Thursday, then made a right turn onto westbound Calvert. The truck fatally struck Dickie, who was crossing Calvert from north to south. Metcalf said he didn't know whether the right turn was made on red or green or whether the pedestrian was in the crosswalk.
The accident is still under investigation, and Metcalf couldn't identify the driver, who stayed at the scene.
Peapod issued a statement on the accident on Thursday: "On behalf of all of us at Peapod, we offer our deepest sympathy to the family and friends of the person involved in the tragic accident in Glover Park this evening. We will cooperate with the investigation into this matter," the statement reads. A company spokesperson referred further questions about the accident to D.C. police and declined to say whether Peapod had taken any action against its driver.
St. Clair said his agency will look for any lessons learned from this accident. "MPD is conducting its investigation, so it is too soon to comment on the specifics of the crash or how it might have been avoided," he wrote in an email. "But DDOT and MPD will collaborate on potential engineering changes at this intersection and elsewhere in the city to help avoid future tragedies like this one."
Community members around both intersections said they have presented concerns and recommendations to the city that were never addressed. The intersection of 37th and Calvert sits just feet from Wisconsin Avenue, as 37th bears off from Wisconsin at a slight angle just before Calvert. Residents say some motorists drive aggressively while attempting to navigate a complicated traffic pattern and poor signal timing.
Meanwhile, three advisory neighborhood commissioners representing areas near the Veazey Street intersection said the unsignalized crosswalk there has been a known hazard for years. They recommended either installing a HAWK signal or removing the crosswalk altogether, as the Transportation Department hopes to do at several intersections along Connecticut in Forest Hills and Chevy Chase.
A 2009 D.C. Department of Transportation study of pedestrian issues also recommended a pedestrian-activated signal at the Veazey intersection, among other changes along Wisconsin Avenue. The Tenleytown/Friendship Heights advisory neighborhood commission passed a 2013 resolution asking the department to "dust off" its plan and implement the recommendations.
"This intersection being a problem isn't completely out of the blue," said neighborhood commissioner Tom Quinn. "It's been looked at and just not dealt with."
This article appears in the June 17 issue of The Georgetown Current newspaper.