Patisserie Poupon's Window is the BID Winner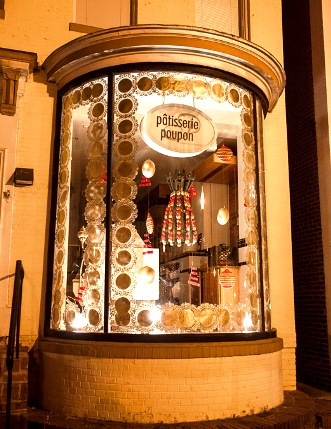 Launching its first annual Georgetown Holiday Window Competition, the Georgetown Business Improvement District (BID) encouraged the area's merchants to sparkle up the neighborhood and encourage visitors to experience Georgetown's holiday spirit.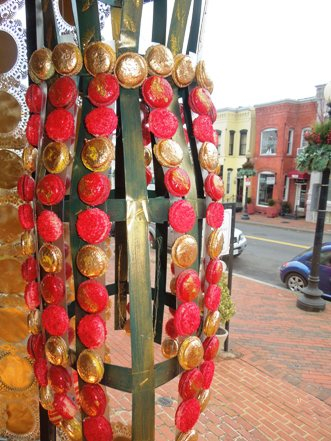 "We were trying to come up with something different," says Patisserie Poupon's manager Martin Cotignola about their winning window. "We've been doing this for eight years now, inspired by what they do in Paris, making elaborate pyramids out of macarons." Using fresh macarons, they spray-painted them gold and red before creating a chandelier of cookies in their French café window on Book Hill.
Official entrants were asked to use only four materials like the popular TV show, Project Runway, where participants are challenged to use only a few materials to create a fashionable end-product.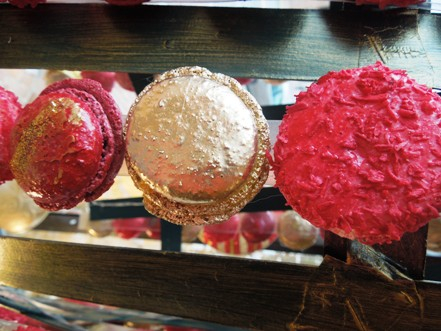 The voting was done on Georgetown's official Facebook page as fans voted for their ONE favorite store window. Over 300 votes were cast through "liking" a merchant's store window photo on Facebook, and the winner announced on Facebook and Twitter on Dec. 17th.
Sixteen particpating merhants vied for the honor of best Georgetown Holiday Window..
Patisserie Poupon's winning window will be featured in a Washington Post Express ad on Thursday, Dec. 20th. And the four materials? Patisserie Poupon used macarons, doilies, parchment baking paper and cake boxes.
Incidentally, the voting was close, with Hitched coming in second followed by Ella-Rue and Haagen-Dazs.