'Pas de Deux' at Susan Calloway Fine Arts Gallery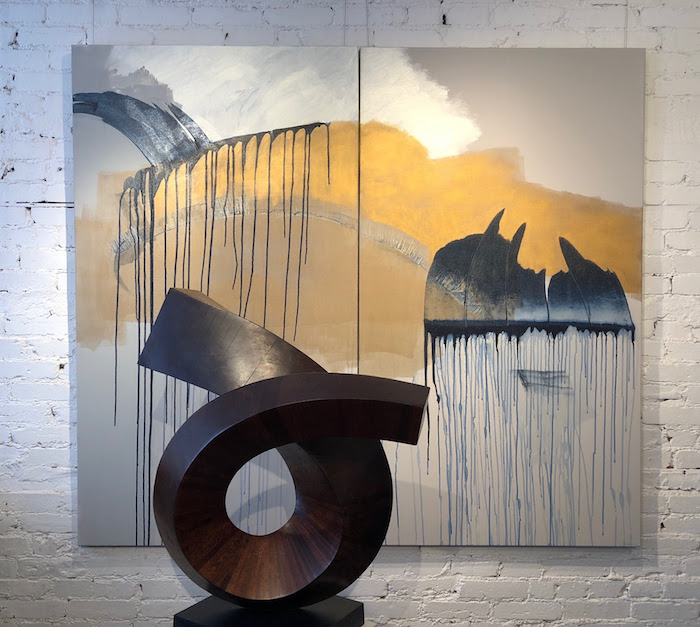 Pas de Deux will be Judith Vivell and Jim Perry's first joint exhibition at Susan Calloway Fine Arts. Perry's sweeping geometric forms echo Judith's broad brush strokes and the arcs and curves of her compositions. The title, Pas de Deux – a synchronized dance between two people- acknowledges this dynamic relationship, as the individual works provoke a dialogue and visual exchange throughout the show.
This exhibition is at Susan Calloway Fine Arts Gallery from September 8 through October 6, 2018. Opening reception is September 8 from 5:00 to 7:00 pm.
Jim Perry received a BA in sculpture from Bard College, where he studied with sculptor Jake Grossberg and painters Murray Reich and Jim Sullivan. He began his sculpture career in the early 1970s in New York City where he exhibited extensively, and in 1975 was included in the Whitney Biennial. In addition to his work as an artist, Jim had a 28-year career as a graphics editor at The New York Times. He left The Times in 2008 to return to making sculpture full time.
Judith Vivell was born in California, attended the University of California at Berkeley where she received her BA in Art History. In 1971 she received a Master's degree in painting from Hunter College, where she studied with Ray Parker. For the first part of her career Vivell was an abstractionist, working with mixed media, but always tethered to the real world. Then, in 2000, she began working in a fully figurative style. This most recent body of work marks a return to that early abstractionist style, with a focus on monumentality through form.
Susan Calloway Fine Arts Gallery is located at 1643 Wisconsin Avenue in Georgetown.
*/