A Party with POTUS in the Background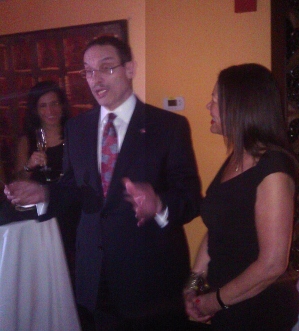 Can you image a party on State-of-the-Union night in Washington where the rule of the event was that politics are off the table? That was the directive for Tuesday night's 60th birthday party for PR executive (and mayor's girlfriend) Linda Mercado Greene.
For the last hour, President Obama's State of the Union Address was on the huge flat screen TV in same room as the three-hour bash at Cafe Milano. The sound was off but the streaming caption was there to read for any who wanted to. Few did. More of the partygoers focused on the birthday girl and her frequent escort, Mayor Vincent Gray.
Make no mistake, he, too, abided by Greene's Night of Politics Off Limits during her party and seldom glanced at the TV screen. Gray, who went to last year's State of the Union as the guest of D.C. Delegate Eleanor Holmes Norton, preferred to attend the birthday party in Georgetown this time.
This is "not a political or business event," firmly stated Greene's e-mail invitation to some 40 close buddies. "We all need to relax sometime. This is the occasion to do it. In advance, I thank you for adhering to this request of no politicking."
Hip, hip, hooray!
Among those attending were Greene's three children, Tamia Harper, Hani Ahmed and Brett Greene; and the Mayor's son Carlos.
Also celebrating were Councilmember Marion Barry and his son Christopher. Greene was Barry's chief of staff in 2005 after she ran his council reelection campaign in 2004.