Partners envision condos at GSA heating plant site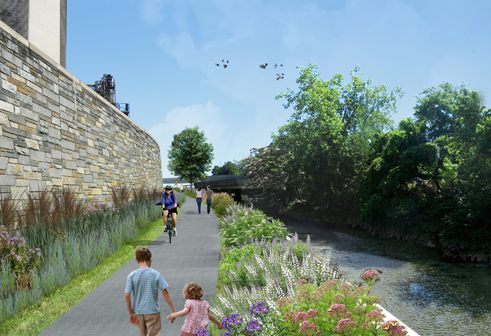 By Brady Holt Current Staff Writer
As developers begin eying Georgetown's two-acre West Heating Plant site — which the federal government listed as excess last month — one team has announced its concept to convert the property into an 80-unit luxury condominium and public park.
The plan from the Georgetown-based Levy Group and the New York-based Georgetown Company is to renovate the six-story heating plant building into Four Seasons Private Residences, the developers and the hotel firm announced Friday.
The proposed Four Seasons design would also convert the site's open space — now home to storage tanks and parking — into a grassy park with public access to Rock Creek and the C&O Canal, and a trail connecting the parcel to other parkland nearby.
"We have a long track record of doing what were best-in-class projects that we thought were transformative for a community," Georgetown Company president Adam Flatto said in an interview. "This opportunity falls right in that zone."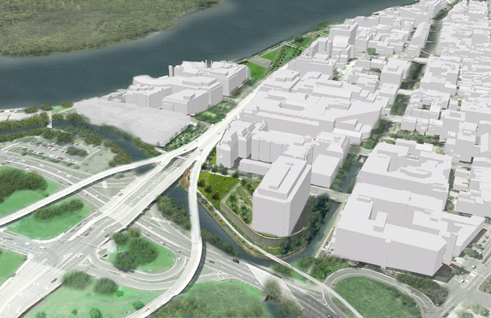 The companies have been working on the design for more than a year, anticipating that the 1940s heating plant at 29th and K streets would be declared surplus property. The Four Seasons Hotel on Pennsylvania Avenue backs on the heating plant site, making it a desirable spot for the company to build luxury condominiums, hotel company vice president Paul White said in an interview.
The U.S. General Services Administration, which owns the site, has retained the facility as a backup heating plant. The government has spent hundreds of thousands of dollars a year to maintain the facility, but hasn't needed it over the last decade.
Neighbors have said the site's industrial use is a waste along Rock Creek Park in Georgetown and that they look forward to a more attractive and inviting use there. Some residents have specifically called for a concept strikingly similar to the Four Seasons plans for open green space next to a renovated building.
Flatto said The Georgetown Company (which, despite its name, has no connection to the D.C. neighborhood) has a history of creating public parks as part of its projects nationwide, citing examples in New York and Ohio. "It became very obvious to us that a great part of the ability for us to transform the site was creating that park," he said. "We understood how this parcel, if developed properly, could be a linking green space between Rock Creek and the waterfront."
Flatto and Levy Group principal Richard Levy said they don't have design details for the heating plant building itself, an art deco structure the government considers historically significant. Any redevelopment would require more than a year of cleanup to remove industrial equipment and asbestos, they said, and some level of exterior renovation to add windows.
The development team hasn't yet projected the cost of the cleanup or of retrofitting 80 luxuriously trimmed condominium units into the heating plant building.
The property remains in the early stages of the government's disposal process. The General Services Administration must first solicit interest from other local and federal agencies before offering it for sale, which is anticipated sometime next year. It may also place some conditions on the sale.
Levy said he expects significant competition from other developers for the site. Local firm EastBanc is among those interested in the property, vice president for acquisitions Joe Sternlieb told The Washington Post last month. He declined to comment yesterday.
"There are a lot of ambiguities here; this is a far from done deal," Levy said. "And we really won't know a whole lot until we see how GSA puts it out."
General Services Administration spokesperson William Marshall declined to comment on the Four Seasons vision for the site. "GSA does not speculate about how surplus properties should be used," he wrote in an email.
Levy said he has personally met with General Services officials over the years to request the property be declared surplus.
"We've spent a lot of time on this; we're very committed to it," he said. "And we believe we have what should prove to be a very compelling project for the community and one that's financially viable."
This article appears in the Nov. 30 issue of The Georgetown Current newspaper.