'Parkrun' Weekly 5K Comes to Northwest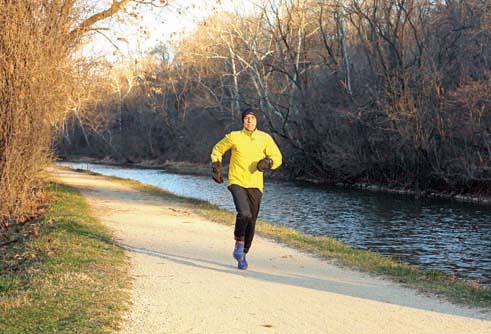 By Mark LiebermanCurrent Staff Writer
Palisades resident Henry Wigglesworth stumbled upon a "Parkrun" during a family vacation in Nottingham, England, last summer and decided to enter the free race at the last minute. During the event, one of the three runners who ultimately beat Wigglesworth paused alongside the American to say hello and wish him well.
"I thought, well, that's really unusual. In all of the runs and races I've done in the United States, I've never been cheered on by a competitor," Wigglesworth said. "That really just captured the friendly spirit of these runs."
From then on, Wigglesworth was hooked. Now he's bringing the Parkrun experience to D.C., officially beginning this Saturday at 9 a.m. with a loop along the C&O Canal towpath starting and ending at Fletcher's Cove, 4940 Canal Road NW.
The volunteer-based initiative started in Teddington, England, in 2004 and gradually expanded worldwide, with more than 500 races held in England and more in 10 other countries so far.
Thanks to the efforts of Wigglesworth and several fellow Parkrun enthusiasts, the tradition of free non-competitive weekly 5K races powered by community support has now reached D.C.
A few weeks after he returned from vacation, Wigglesworth had coffee with local runner Peter Blank, who loved the idea of a Parkrun and knew another District resident with the same idea. Blank connected Wigglesworth with Darrell Stanaford, a D.C. transplant from Moscow who first encountered Parkruns in Russia and wanted to bring them to the U.S.
"It seemed like Darrell was a sign from the heavens that this was a good thing to pursue," said Wigglesworth.
Parkruns, so named because they typically take place in or near public parks, became part of Stanaford's routine in Moscow, where he spent 20 years. He said that when he came to D.C., he and his wife had "gotten spoiled by having these free 5K runs every Saturday morning. We knew right away that we wanted to get one going in Washington."
Wigglesworth and Stanaford emailed Parkrun founder Paul Sinton-Hewitt, who connected the pair with several other D.C. residents who had approached him with the same idea. Among the new recruits was Andres Falconer, who works at the World Bank and previously lived in London, where he participated in approximately 50 Parkruns in Wimbledon Commons. In addition to the opportunity to regularly stretch his legs, the variety of people who showed up kept him interested.
"On one end, you'll have very fast runners of all ages," said Falconer. "On the other hand you'll have parents pushing babies, dog walkers, elderly people, families with kids. It's a no-pressure environment."
Falconer is handling the social media and funding for D.C. Parkrun, while Stanaford is in charge of organizing volunteers.
One of the requirements for starting a race is an initial investment of $4,000, mainly for equipment to keep track of running times. Wigglesworth and his team acquired $2,100 from the Palisades Community Fund, and the donations rolled in from there. They'll help keep the experience free and easy for interested runners.
"You get a professionally run, professionally managed, professionally staged 5K run that is timed, and the times are recorded and posted on a website," Wigglesworth said. "All that is free. And yet it is done at very high quality."
Three test races in November and December proved more successful than expected, Wigglesworth said. With little publicity, the first race attracted 20 runners and the second and third races attracted 30 each. One of the participants in the final trial was Ward 3 D.C. Council member Mary Cheh, who told The Washington Post that she hopes to see more Parkruns crop up across the city after this one launches.
One of the challenges for starting a Parkrun movement nationwide, Falconer said, is that it's hard to drum up interest in races that are currently scattered across the country — one in California, another in Florida and so on.
"They think that having an active presence in the East Coast can really start building the momentum," Falconer said.
Sinton-Hewitt will attend Saturday's Parkrun launch in Georgetown, as will Parkrun's global CEO Nick Pearson. Falconer said their presence is notable because they're not known to attend every new race.
Once the race starts and becomes a community tradition, Wigglesworth will focus on recruiting new people interested in donating their time to behind-the-scenes efforts, he said.
"The biggest challenge is finding volunteers — like-minded people who are willing to donate the time to do this," he said. "It has been pretty time-consuming. It can't be done by yourself."
Wigglesworth hopes to see broad involvement in terms of runners and organizers. He points out that as a longtime runner and part-time coach, he has no trouble finding opportunities to run. He wants Parkrun to serve the community, aimed at people who want to run in a relaxed environment but don't want to pay prohibitive fees or worry about underperforming.
"We don't need a Parkrun in order for us to satisfy our urge to run," he said. "It was really more the desire to create this thing that we knew worked really well in England and we think can work really well here."
Runners interested in attending Saturday's run are encouraged to register online at tinyurl.com/parkrunregister, though they can sign up at the event as well. This brief registration is the only one that's required to participate in all subsequent races, including the weekly Saturday runs at Fletcher's Cove.
This article appears in the Jan. 6 issue of The Georgetown Current newspaper.