Parking, Noise at Issue in Two License Protests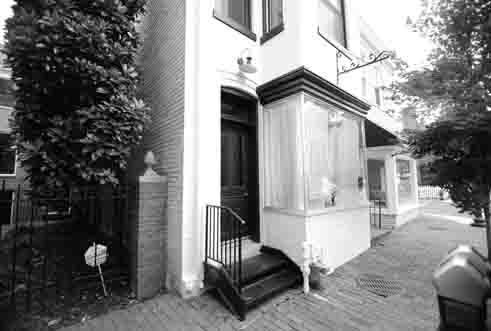 By Graham VyseCurrent Staff Writer
In a nod to residents concerned about noise and parking scarcity near their homes, the Georgetown advisory neighborhood commission voted last week to protest liquor license applications from After Peacock Room and the planned Yakitori restaurant.
After Peacock Room, a tearoom/coffeehouse at 2622 P St., plans to shift into serving lunch and dinner. Yakitori, at 1515 Wisconsin Ave., is a new Japanese restaurant set to open next year in the space where John Rosselli Antiques currently sits. The D.C. Alcoholic Beverage Control Board is scheduled to hear both cases this month.
After Peacock Room plans to open six days a week with its new offerings — Tuesday through Sunday, from noon until 10 p.m. That schedule would be a change from its current hours, which are noon to 9 p.m. Tuesday through Friday and 10 a.m. to 7 p.m. on weekends. In addition, the restaurant is seeking to open a 16-seat seat outdoor patio, although no alcohol would be allowed outside. Inside, individual customers would be limited to three glasses of wine or three bottles of beer.
Commissioner Tom Birch noted that there are currently no businesses with liquor licenses on the block that includes After Peacock Room. He said several neighbors are concerned about the prospect of sound carrying from the patio.
Birch said he could relate to their worries. "I have a small back patio with neighbors on either side," he said. "When anyone is in their rear yard, I hear them. Silence is a very rare commodity."
Karen Cruse of the Citizens Association of Georgetown agreed. "The patio is a non-starter," she said.
The other major issue raised about the After Peacock Room application was the impact it could have on parking. By adding more meals and drinks, the commissioners and residents agreed that the establishment would begin to attract patrons likely to linger in the area longer than those coming for just coffee or tea.
"Where are these patrons going to park and for how long?" one resident asked. "There just isn't any public parking lot anywhere near there."
Community members were also concerned about how the opening of Yakitori would affect the relatively quiet character of a section of the neighborhood several blocks north of busy M Street. The fear is that with more restaurants, even those that don't serve alcohol, the area could feel more like the bustling corridors of Adams Morgan and U Street.
But representatives of the planned Japanese teriyaki restaurant are looking to reach an agreement with the neighbors. They have said they will not have outdoor space, live music or a DJ. Their establishment would be open until 11 p.m. Sunday through Thursday and until midnight during the weekend. They are also promising high-quality food offerings, with a chef from the acclaimed Sushi-Ko restaurant on board to run the kitchen.
The commission's protests mean that the two establishments will have to either agree to concessions with the community in a settlement agreement or must persuade the Alcoholic Beverage Control Board that they won't harm the community.
This article appears in the Sept. 3 issue of The Georgetown Current newspaper.