Paris Haute Couture Fashion Week: Dior Delivers Delightment!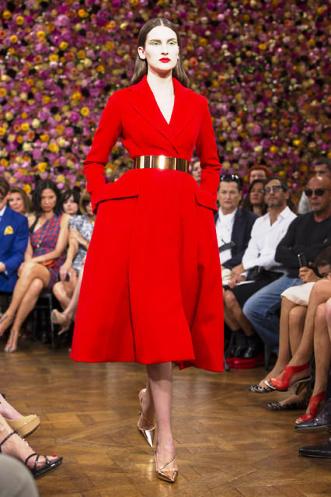 On Monday, the busy avenues of Paris were sparse as the world's most fashionable were seated inside the Avenue d'lena center awaiting with bated breath to see the first collection from Christian Dior's new Creative Director Raf Simons during Paris Fashion Week Fall/Winter 2013. The question on everyone's mind, will it disappoint or delight?
Photo Credit: Getty Images
As you'll see from the images, the Belgian designer's collection delighted! Not to mention, Simons received one of the highest compliments a designer could ask for, to have other major designers attending your show. Simons had more than a few show up, he had 9 major players in the fashion world in attendance to include: Diane von Fursternberg, Marc Jacobs, Pierre Cardin, Givenchy's Riccardo Tisci AND the reclusive Azzedine Alaia. Alaia is considered one of Paris' greatest designers and known for never coming out to enjoy the limelight, but clearly Simons' inaugural showing was well worth coming out for.
Photo Credit: Getty Images
Amidst a backdrop of thousands of fresh fragarant flowers, guests were given a first look at what some are calling "The New New Look", referring Christian Dior's New Look 1947 collection where Dior created the famed "Bar Jacket", which took on several new forms in this collection. Floral peplum tops, bustier bodices and sheer sweaters were paired with lush ball gown skirts and slim pants. True to Dior form, the collection was composed of ladylike looks and simple yet feminine lines all adhering to Monsieur Dior's original Codes of the House.
Photo Credit: Getty Images
One of the most spectacular creations was a sculpted white organza dress embroidered with thousandsof pale blue and pink feathers - the epitome of haute couture. Another showstopper was this ball gown skirt decorated with bright blue fabric flowers - absolutely divine!
Photo Credit: Getty Images
If the haute couture PP isn't in your budget - which can soar up to 20K for a dress - no worries! Haute couture shows are held long before the RTW Fashion Weeks here in New York (Fall 2013 RTW collections will show in February 2013) for a reason: to allow the trends to trickle down and show up in pieces at H&M and collections from mid-level designers like Diane von Furstenberg and high-end designers like Victoria Beckham.
Photo Credit: Getty Images
Next up for Simons, he's gearing up for his first Dior RTW collection show in October in Paris. That's when you and I will have the chance to preview his Spring 2013 collection! Can't wait!!! :o)
Photo Credit: Getty Images
In the meantime, if you want to be fashion forward, start rocking the trends you've seen in this post! Pair a long peplum top with a pair of skinny black dress pants perhaps?!
J'adore Dior!
XOXO
~MyDCStyle